Coventry University apprentices first ever to complete new chartered manager degree apprenticeship
University news / Student news / Alumni news
---
Monday 05 March 2018
Press contact
---
A group of Coventry University chartered manager degree apprentices have become the first ever to complete the new qualification.
The five apprentices were trained by the university in partnership with their employer GE Aviation – and have now all been offered permanent jobs within the company.
Developed in conjunction with the Chartered Management Institute (CMI), the new degree apprenticeship helps employers develop first class leaders and gives apprentices the opportunity to gain professional and academic qualifications.
Apprentices on the scheme achieved a BA (Hons) management and leadership, awarded by Coventry University, as well as the CMI diploma in management and leadership.
They also received full chartered manager status with the designator letters 'CMgr' – the highest that can be achieved in the management profession.
The chartered manager degree apprenticeship (CMDA) course was delivered at the Cheltenham site of GE Aviation by Coventry University tutors, who are experienced management professionals, in partnership with CU Coventry.
The five apprentices worked full time in a series of placements, with 20 per cent of their work time allocated to off-the job training.
The company also assigned a mentor to each apprentice.
The students all passed with flying colours: two with distinction, the highest classification, and three with merit, the second highest.
Dan Taylor, 24, who achieved a distinction in his degree apprenticeship, said:
Through the apprenticeship I have learned the inter-personal skills as well as technical knowledge required to succeed.

I've come out with four and a half years of experience with a global company, as well as an honours degree, a respected professional qualification and a broad range of soft skills - putting me in a far more employable position.

I have been successful in securing a permanent position within the company where I will continue to work and learn every day.

I want to continue to be challenged and to grow. I'm really excited about the next stage of my development."
Harry Cleevely, 23, who qualified with a merit, said:
It sounds a bit cheesy, but I feel as if I started as a boy, but finished as a man.

What you learn equips you to go into a range of different roles. Add to that earning a wage and getting solid work experience while you study, and you can't go wrong."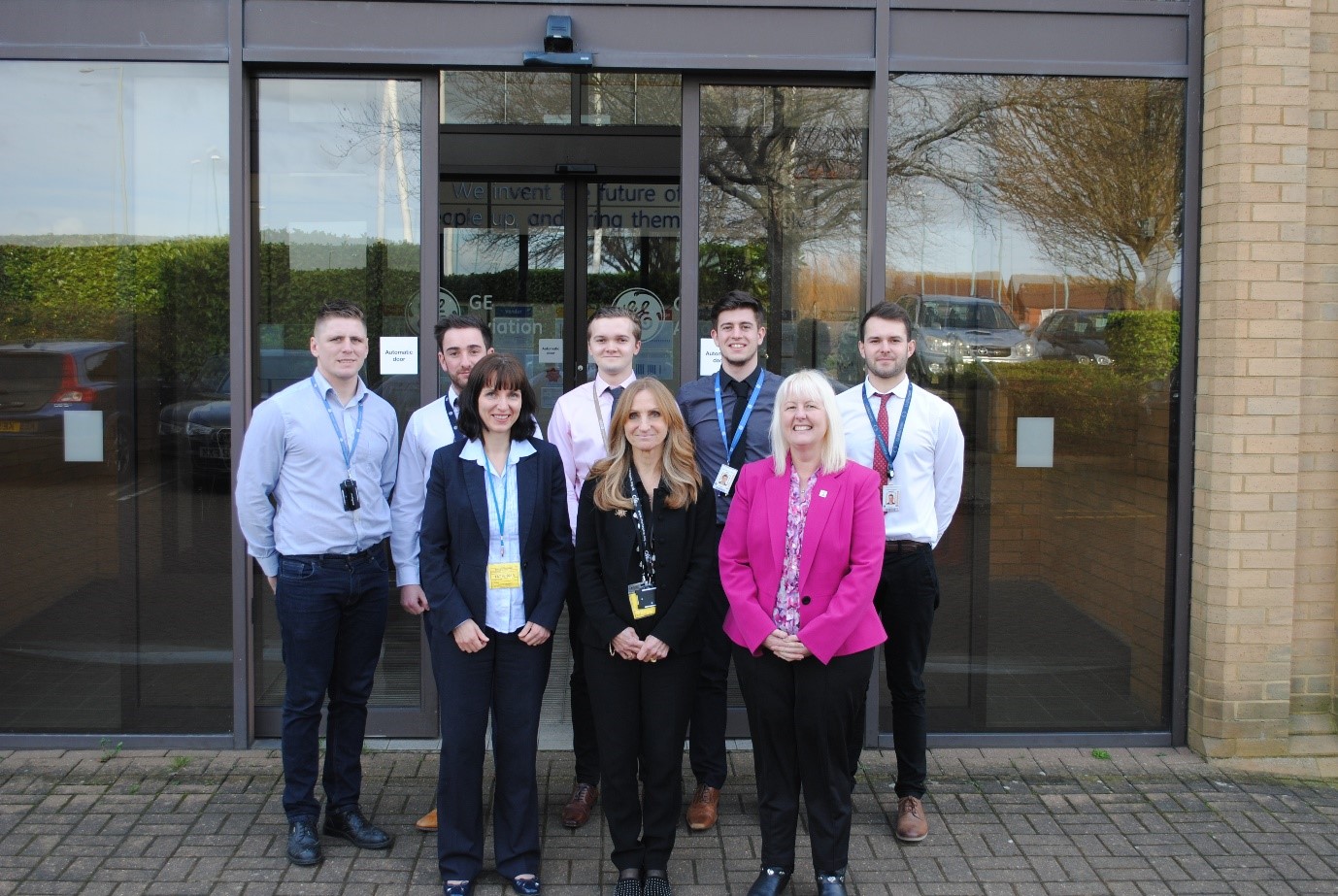 The first ever CMI Chartered Manager Degree Apprentices line up with Coventry University tutor Hannah Price, academic assessor Carol Forbes and CMI Apprenticeship Quality Manager Jocelyn Simmons.
L-R: Ben Large, Greg Harwood, Hannah Price, Dan Taylor, Carol Forbes, Joe Haycock-Burton, Jocelyn Simmons, Harry Cleevely.
John Dishman, CU Coventry Pro-Vice Chancellor, said:
This is fantastic news. I am absolutely delighted that our CMDA apprentices are the first ever to complete this new degree apprenticeship, and I congratulate them on their well-deserved success.

It has been a pleasure to work with GE Aviation, whose care and support for their apprentices has played no mean part in this successful outcome. I would also like to thank CMI for the opportunity to help develop the new apprenticeship."
Steph Mitten, communications and apprentice lead for GE Aviation, said:
We are extremely proud of our apprentices – pioneers of the CMDA. Their hard work and determination, balancing a high level of study time whilst maintaining full time roles shows true dedication.

The programme strategy ensures we are training apprentices ready for management experience within the business. We look forward to coaching our current and future cohorts on this journey."
Petra Wilton, CMI director of Strategy and External Affairs said:
Congratulations to the first five chartered manager degree apprentices completing their courses from Coventry University with flying colours, providing them with ready-made jobs at GE Aviation."
For further details about degree apprenticeships visit:
https://www.gov.uk/government/publications/higher-and-degree-apprenticeships