Coventry University alumnus up for special effects Oscar
University news / Alumni news
---
Tuesday 25 February 2014
Press contact
---
A former graphic design student from Coventry University is in the running for one of the highest and most famous accolades in show business.
Christopher Townsend, who graduated from Coventry Polytechnic in 1988 with a degree in graphic design, has been nominated for an Academy Award for best visual effects for his leading role creating the stunning graphics in Hollywood blockbuster Iron Man 3.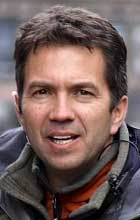 The Coventry alumnus – who was also nominated for but missed out on the visual effects award at last week's BAFTAs – will be going head to head with graphics gurus from Gravity and The Hobbit in the race for the coveted Oscar, which will be awarded at the prestigious ceremony in Beverly Hills on Sunday 2nd March.
Christopher isn't the first alumnus of Coventry University to sample Hollywood success – graphic design graduate (from 1980) Alison Snowden won an Academy Award for best short film in 1995 for her animation Bob's Birthday (1994), and went on to create Emmy Award-winning TV animation Shaun the Sheep in collaboration with Nick Park.
Communications studies graduate (from 1983) Kevin De La Noy was executive producer for Oscar-winning Batman flick The Dark Knight (2008) and its BAFTA-nominated follow-up The Dark Knight Rises (2012).
And fine art graduate Jan Sanger was head of model making for Aardman Studios' acclaimed animations Chicken Run (2000) – which was nominated for a BAFTA for best visual effects – and Oscar-nominated Wallace and Gromit hit A Matter of Loaf and Death (2008).
Christopher, who was visual effects supervisor for Iron Man 3, Pirates of the Caribbean: Dean Man's Chest and disaster movie The Day After Tomorrow, among other films, said:
I'm thrilled to have been nominated for both an Academy Award and a BAFTA. Iron Man 3 was a film of many challenges and it took an amazing team of people to bring it to the big screen. It's a resounding endorsement by our peers in the industry, and a huge honour for the more than 1,200 visual effects artists and production folk, in 17 different companies in six countries, who worked on the film.

Coventry University's graphic design degree course was one of the early adopters of computer graphics, so when I graduated in 1988, it gave me a solid understanding and knowledge base to take into my career in film.
The 86th Academy Awards will be held on March 2nd at the Dolby Theatre in Los Angeles.