Coventry students' link-up with Ricardo leads to design 'Oscar'

University news / Student news
---
Monday 29 September 2014
Press contact
---
Students at Coventry University have beaten over 4,750 entries from 63 countries to win what is considered an 'Oscar' of the global design industry – and have helped the University achieve a number one ranking for design in the UK.
Two groups of postgraduates – Team Pangea and Team Hercules – won the Red Dot 'Best Concept Award' and 'Best of Best Concept Award' respectively in recognition of their designs for an innovative earth-digging excavator, which were conceived as part of a collaboration with Leamington-based global engineering consultant Ricardo plc.
The students, who study on the University's Design and Transport and Industrial Product Design master's courses, received the coveted award on Friday evening during a glittering ceremony at the Red Dot Museum in Singapore.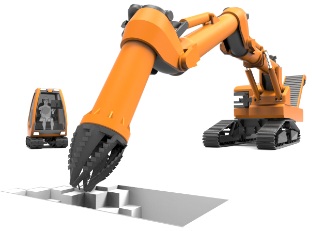 Both groups of students used their course's three-month collaborative assignment with Ricardo to research, design and develop concepts for an excavator to improve digging efficiency on construction sites – the designs were then submitted to the Red Dot Award.
The students' success has helped Coventry University to become the only UK university in the Red Dot Award's illustrious top 15 ranking for higher education institutions in America and Europe. Organisations in the top 15 for other categories include Samsung, Hyundai and iconic British design house Seymourpowell.
Established in 1955, the Red Dot Design Award – which has been described as the industry's equivalent of the Oscars – is considered one of the world's top product design competitions and is judged by a panel of 22 leading experts in the field.
Professor Seymour Roworth-Stokes, executive dean of the University's School of Art and Design, said:
This is a tremendous achievement by our students and we're thrilled that the design projects they carried out with Ricardo as part of their master's course have led to such success on a global stage. Providing exposure to industry is a key part of what we offer to students, and these awards are testament to the fact that the experience helps them go on to compete with the very best in the world.
Dr David Shuttlewood, vehicle dynamics specialist at Ricardo Vehicle Engineering who oversaw the students' projects, said:
It was both a pleasure and an inspiration for myself and my colleagues at Ricardo to observe such talented young engineers organising themselves as a collaborative multi-disciplined team. The Ricardo project design brief is intentionally constructed in a manner that allows the maximum freedom to innovate, enabling the students to develop creative solutions that have the potential to push the boundaries of future vehicle design.
The winning designs from this year's Red Dot Awards – including those from Teams Pangea and Hercules – are being celebrated in a yearbook and special exhibition at Singapore's Red Dot Design Museum.
TEAM INFORMATION
Team Hercules was one of only 40 to be awarded the 'Best of Best Concept' accolade. The Hercules excavator overcomes the inefficiency of the traditional excavator with an integrated excavation process that incorporates a rotary cutting head and continuous soil removal. The soil is transferred to the receiving vehicle through a combination of augers and a discharging conveyor belt. Winning students: Selin Koşağan, Chi Liu, Danny McElchar, Apostolos Papamatthaiakis, Rahil Rupawala.
The design from Team Pangea - the Pangea excavator - increases the efficiency of excavating different types of holes. The continuous excavation and transportation of soil speeds up work and reduces energy consumption. Winning students: Qing Ji, Chinnawat Chutimachalothorn, Tiago Cardoso, Joe Hughes, Ganesh Prabhu Thenrajan, Qixuan Wu, Tianye Zhang.