Coventry student designs futuristic land speed 'ride'

---
Monday 22 June 2015
Press contact
---
An automotive design student from Coventry University has come up with a futuristic vehicle concept to give members of the public the ride of their life – in a 400mph rocket-powered machine.
Sean Macfaden, from Prudhoe in Northumberland, devised the Valkyrie 'high speed experience' for his final year project having been inspired by Virgin Galactic's goal of bringing suborbital spaceflight to paying customers.
The Valkyrie vehicle, which is a cross between a dragster and a hypercar, features a hybrid rocket system to propel the driver and its two passengers at soaring speeds across the Bonneville Salt Flats in Utah – famous for its land speed record heritage.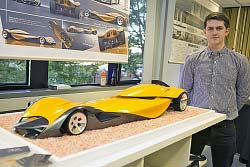 Thrill-seeking passengers would be seated behind and to either side of the driver within a carbon fibre monocoque, which would act as a resilient safety cell in the unlikely event of an accident. A parachute would deploy to slow the car after the sixty-second high speed run was over.
While Sean's concept is not designed to break records, the 22 year-old is hoping his idea could become the latest in a line of successful British forays into the land speed industry, following in the footsteps of the world-beating Thrust SSC – which is housed in Coventry's Transport Museum – and the forthcoming Bloodhound SSC project.
Sean has already created detailed digital models and a scale-sized clay sculpture of his Valkyrie vehicle for the University's degree show, and is confident that with the right investment his ambitious concept could become a reality.
Sean, who will graduate from Coventry University's School of Art and Design in November, said:
There's an increasingly popular market for adrenaline junkies who are willing to part with cash for a new and different kind of adventure, so for the final year of my course I focused on developing and designing a concept that could realistically be the next big thing in the extreme thrills industry.

Sir Richard Branson has beaten the world to suborbital spaceflight, but bringing things back down to earth wouldn't be any less exciting. Imagine joining Wing Commander Andy Green for a 400mph ride just inches off the ground. It would be a stunning and memorable experience, and you'd have travelled as fast as it's possible for a member of the public to go on earth. Plus it would be a little more affordable than going into space!