Chancellor's support scheme sees students awarded almost £80k
Wednesday 24 February 2016
Press contact
---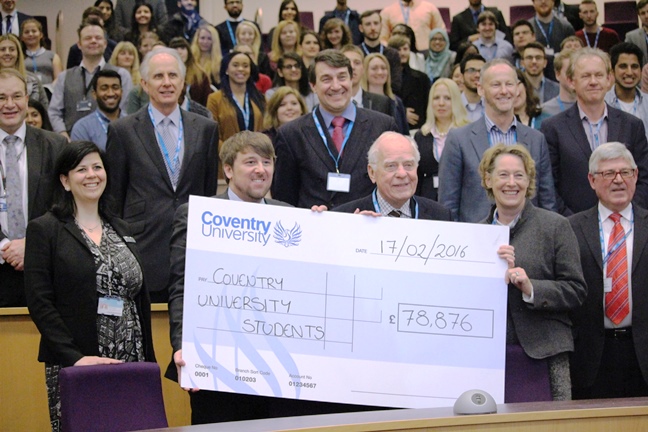 Almost sixty students have benefitted from grants totalling nearly eighty thousand pounds – thanks to the generosity of Coventry University alumni and other contributors.

The students received their awards and met with some of the donors at a special ceremony on Wednesday 17 February for this year's Chancellor's Fund awards. Established by Coventry University Chancellor Sir John Egan, the initiative supports students with additional funding to help them take advantage of some of the opportunities that are available to them while studying but which are not always attainable.

The financial assistance that the Chancellor's Fund offers can be used for a variety of things from buying specialist equipment and books to covering travel expenses for work experience placements.

Aside from the Chancellor's Fund, other awards presented at last Wednesday's ceremony include the National Express Scholarship to promote growth in local communities; the Sir William Lyons bursary for those studying engineering degrees; and the Ada Lovelace scholarship to encourage female students into STEM subjects.

Out of a total of 580 applicants this year, 105 were selected for grants and scholarships worth £78,876 in total. These latest recipients include a health and life sciences PhD student awarded £875 to assist her with taking part in an autism diagnostic training course and an enterprise and entrepreneurship student who was given £426 to purchase mannequins for the Changing Rooms, Changing Lives retail programme that she is involved in, which helps unemployed young people aged between 16 and 25.

Further information about The Chancellor's Fund, including information how to apply or to make a donation is available here.

For more details of this year's ceremony contact Rhys Lewis in the University's Marketing and Communications team.