BBC Panorama highlights that Government 'must do more for families of children with complex health needs'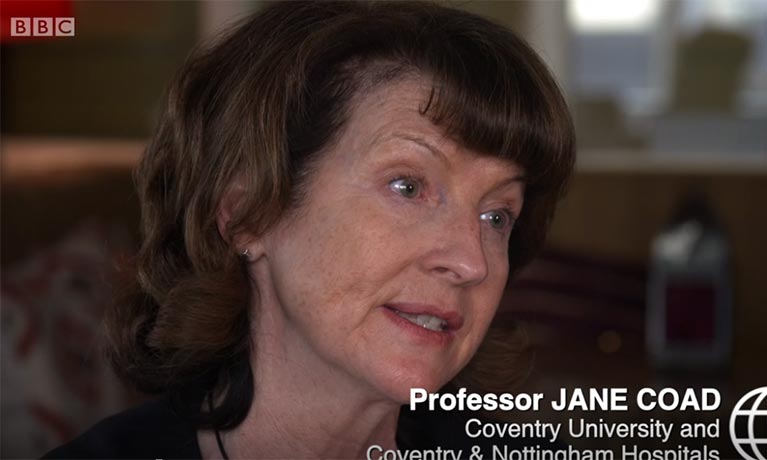 Business news / Alumni news
---
Thursday 19 July 2018
Press contact
---
The government must do more to help families of children with complex health needs, says a Coventry University professor who appeared on a BBC Panorama programme which highlighted the issue.
The documentary titled Fighting For My Child, focussed on three families who care for children with serious disabilities, the difficulties they face and, in some cases, the limited support they receive.
Professor Jane Coad, the executive director of Coventry University's Centre for Innovative Research Across the
Life Course (CIRAL), was interviewed on the programme and visited some of the families involved in the show at their homes.
The programme said that about one million children with complex health needs live at home. The number has doubled since 2004 as children with these conditions live longer due to medical and technological advancements.
But at the same time reported government cuts are significantly reducing funding to areas which provide vital support to the families of these children.
Professor Coad has been working with families of children who have complex and life limiting illnesses for more than 25 years, with her research already influencing policy and guidelines.
She said she hopes the Panorama programme will get the attention of politicians who have the power to include helping these families as part of their strategy in tackling an ageing population.
Professor Coad, who is also a clinical professor of nursing at University Hospitals Coventry & Warwickshire and Nottingham University Hospitals, said:
Panorama has given families themselves a voice, to say to the government and healthcare providers that things have to change.
It has provided us with a platform now which will enable us to take this debate to parliament where we can openly discuss the care required for the children and the choices parents are given.
The number of children living longer with complex needs is growing, and this is becoming a significant group who have a very unique and diverse range of needs which the government and healthcare providers must listen to and address. We need to encourage open communication with healthcare professionals and families, so each can begin to better work together.
In future years we will have ageing parents looking after their children with complex needs, at home, for much longer. We know the government is pumping funds into tackling an ageing population.
But the increasing survival of children with serious disabilities should most definitely form part of that agenda. The government should be widening its strategy around societal challenges in ageing, to include these children with complex health needs.