Artist's new exhibition echoes real and remembered worlds
Thursday 13 November 2014
Press contact
---
A new exhibition of paintings from one of the region's leading artists opens at the Lanchester Gallery in Coventry from Friday 21 November.

Entitled Echoes, the free exhibition showcases recent works by figurative painter John Devane, Head of Coventry University's Department of Design and Visual Arts and runner up in the BP Portrait Award 2013.

Reflecting the traditional approach of the figurative art movement, the paintings that make up the collection are derived from real life subject matter and comprise studies of people, urban locations and interior shots. But in addition to the primary source material the images also draw upon disparate influences and mediums.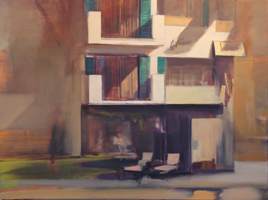 Film is a prevalent theme with inspiration coming from the work of directors like Alfred Hitchcock and David Lynch. As such the paintings have a cinematic quality that is familiar yet at times disconcerting. This blurring of creative boundaries is also reflected in technical application, thus leading viewers to explore the fluidity that exists between reality and fiction. In this respect, the paintings may be considered visual echoes of both real and remembered worlds.

A private view of the Echoes exhibition is being held from 5pm to 8pm on Thursday 20 November at the Lanchester Gallery, Jordan Well, Coventry CV 1 5FB. The private view is open to the public. Thereafter the exhibition runs at the gallery from Friday 21 November to Saturday 20 December 2014 (exhibition opening hours 12pm - 6pm Monday to Saturday). The exhibition is free to attend.

Further information on the exhibition and other projects at the Lanchester Gallery is available online or can be obtained by contacting the gallery direct on +44 (0)24 7688 7831 or via email gallery@coventry.ac.uk.

For further press information please contact Mark Farnan, communications assistant, Coventry University, on +44 (0)24 7765 8245 or email mark.farnan@coventry.ac.uk.

John Devane
John Devane is a figurative painter who has exhibited widely since graduating from the Royal College of Art. He was a finalist in 2013 BP Portrait award and exhibited in the 1995 BP Portrait award. He was shortlisted for the Garrick Milne Prize for Painting in 2005, and has work in a number of private and public collections including Brunel University, Coventry University, the Imperial War Museum, Unilever Collection, Henley Business Management College and Ocean Transport and Trade PLC. John Devane is currently Head of Department of Design and Visual Arts at Coventry School of Art & Design at Coventry University.