£5 million boost for University's new science and health 'superlab'
Thursday 11 December 2014
Press contact
---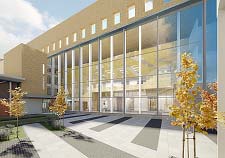 Coventry University's flagship new Science and Health Building, due for completion in 2017, has been awarded a £4.9 million grant by the Higher Education Funding Council for England (HEFCE).
The building, which is set to bring together the Faculty of Health and Life Science's teaching and research facilities into a 'superlab' in Coventry's city centre, will receive a share of £200 million set aside by the government for science, technology, engineering and maths (STEM) investment.
Amongst the state-of-the-art health simulation facilities in the new building will be a mock operating theatre, fully-equipped ambulance and a community house to test the latest assistive living technologies.
A laboratory for teaching and research in biological and analytic sciences will sit alongside a strength and conditioning room, with a running track, sports therapy clinic and facilities for food and environmental sciences also on site.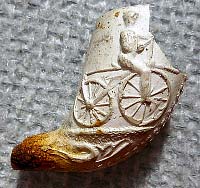 Archaeological excavation work is underway at the future site of the five-storey, 120,000 sq ft Science and Health Building on Much Park Street, with findings including the remains of a medieval cellar and well (circa 1400), the walls of a 19th century factory and an old clay pipe bearing the engraving of a penny farthing.
The £4.9m HEFCE grant represents a significant boost for the project ahead of the construction and equipment of the building, which is expected to total over £60m.
Guy Daly, executive dean of Coventry University's Faculty of Health and Life Sciences, said:
This investment is excellent news and will allow us to ensure that our science students as well as our health and social care students benefit from state-of-the-art equipment and laboratories fit for a leading modern university.

Our new teaching and simulation facilities will be crucial in providing students with the skills they need to develop into sought-after graduates, and we'll have a suitably innovative environment to support our ambitious research strategy. As we approach the start of construction of the new building, this grant is another boost for our ambitions to provide not only the highest standards in teaching, learning and research, but also an effective service to the community.
Madeleine Atkins, chief executive of HEFCE and former vice-chancellor of Coventry University, said:
This funding is badly needed by universities and colleges to meet the increased interest in science and engineering. It will also ensure that students benefit from state-of-the-art equipment and laboratories, and are thereby equipped for the workplace of the 21st century.
Vince Cable, secretary of state for the Department for Business, Innovation and Skills, said:
Inspiring young people to take up STEM courses is vital to the success of the UK economy. This investment will mean world-class teaching facilities to build tomorrow's skilled workforce. It's just one way we are ensuring the UK remains a world leader in science and research.