Without chaplains, universities would be £4.5m 'poorer'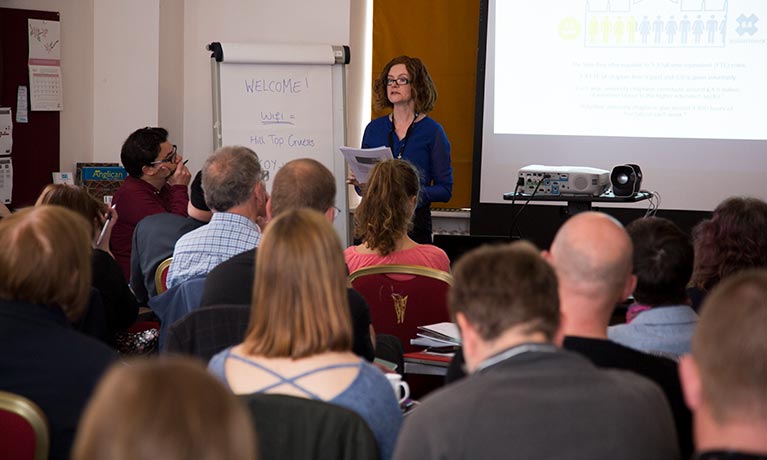 University news / Research news
---
Wednesday 01 May 2019
Press contact
---
A new report 'Chaplains on Campus: Understanding Chaplaincy in UK Universities' which examines the work that chaplains do, how that is resourced and the impact that their work has on campus life, is launched today in Coventry.
Funded by the Church of England, via its Church Universities Fund, this is a major piece of work involving over 400 university chaplains, managers and religion or belief organisations across the UK, and nearly 200 students.
The key findings shows that an average university has 10.4 chaplains and the time that they offer equates to 3.3 full-time equivalent (FTE) roles. The report estimates that each year, university chaplains contribute around £4.5 million of volunteer labour to the higher education sector and volunteer university chaplains give around 3,500 hours of free labour each week.
Chaplains spend a lot of time on pastoral activities such as one-to one support and counselling for students. They offer support to socially marginalised students, for instance international students or those needing additional mental health support, with a secondary priority being religious activities such as conducting religious services and running inter-faith events. They also support staff.
Religious bodies are the largest funders of chaplaincy, with 28% of chaplains receiving a salary or stipend from one or more religious body. Only 23% chaplains are paid solely by the university. A further 7% are paid jointly by the university and a religious body. The rest are volunteers.
Provision for religious students varies widely, with students having between zero and 54 chaplains. An average university has one prayer space for every 3,524 students. There are differences in the amount of provision at different university types. The most abundant space for prayer and worship for students is at Cathedrals Group universities, followed by traditional elites, 1960s campuses, and post-1992 universities, with red bricks having the smallest amount.
Our research has found that chaplains are doing a great job supporting students pastorally and responding to an increasingly multi-faith environment. What is letting them down though, is how under-resourced they are, so one of our 15 recommendations is that universities increase their funding for chaplaincy to continue this vital service.

Dr Kristin Aune, Professor of Sociology of Religion at Coventry University
This ground-breaking research provides churches and other religious bodies with a hugely important resource for supporting chaplains and chaplaincy in their ministry. Chaplains are on the frontier of our engagement with young people and with universities as leading social institutions.

Bishop Tim Dakin, the lead bishop for Further and Higher Education in the Church of England
Dr. Aune is co-author of 'Chaplains on Campus: Understanding Chaplaincy in UK Universities' with Professor Mathew Guest from Durham University and Reverend. Dr Jeremy Law from Canterbury Christ Church University.
---
For further press information, please contact Tracey Saunders, Senior Media Officer, Coventry University, on +44 (0)24 7765 7126 or email tracey.saunders@coventry.ac.uk