Sustainable drainage systems project may address surface water management issues for refugees worldwide.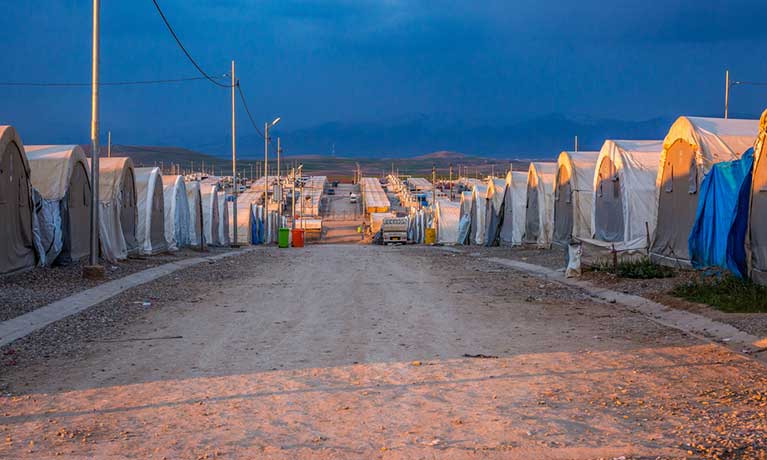 ---
Monday 25 March 2019
Press contact
---
Coventry University's project to manage stormwater and greywater in refugee camps has successfully completed a pilot in the Kurdistan Region of Iraq. Work is taking place to expand the project, with a view to using the systems at refugee camps worldwide.
The Centre for Agroecology, Water and Resilience (CAWR) project at Gawilan, in Ninewah Governate, was sponsored by the Humanitarian Innovation Fund, as a two-year study to design, install and monitor sustainable drainage systems (SuDS) in a humanitarian setting.

SuDS mimic natural drainage, encouraging natural water flow into the ground and storage in ponds before being conveyed slowly into the watercourse via grassed ditches. This reduces water volume and improves water quality, biodiversity, and amenities for refugees.
Researchers worked very closely with the UNHCR, local management, and the camp community, who were fully engaged in drawing up plans for the site.
Refugee camps in the Kurdistan Region of Iraq can provide shelter for many thousands of displaced, vulnerable people. The camps often remain for a long time, and may become permanent. WASH (Water, Sanitation and Hygiene) infrastructure is installed to provide washing facilities, toilets and drinking water, but often management of stormwater and grey water is not included, causing flooding. Infrastructure such as pipes, ditches and concrete channels may be retrofitted which need to be disposed of when the camp is dismantled.
SuDS use native vegetation where possible – so that when refugees leave the camp, there will be minimal hard infrastructure to dispose of, and the vegetation can be left in place, improving the site.
Funding from Coventry University has enabled CAWR to meet with organisations such as UNHCR, IOM, and Oxfam. This includes visits to the site at Gawilan to investigate both extending work to retrofit SuDS in the camp itself, and the implementation of sustainable management at the large scale, using an approach called Natural Flood Risk Management. If this approach functions in the Kurdistan Region of Iraq, it is likely to work in refugee camps worldwide.