Queen's Birthday Honours for Coventry University duo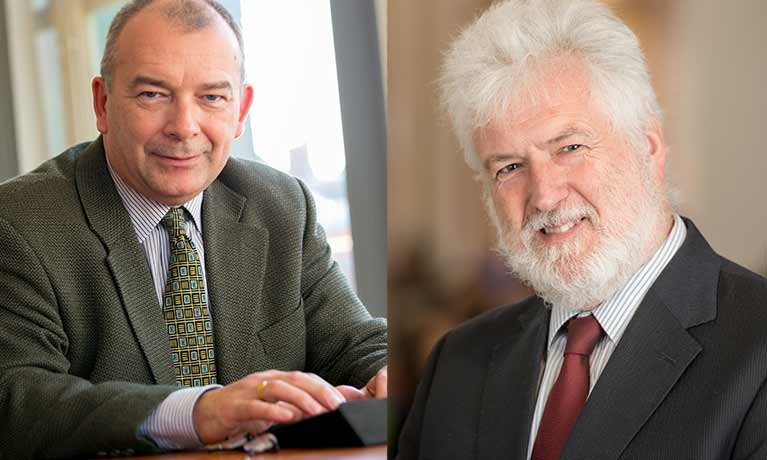 University news / Alumni news
---
Saturday 08 June 2019
Press contact
---
The pioneering work of Coventry University's Vice-Chancellor and professor of mathematics education has been recognised in the Queen's Birthday Honours announced today.
Professor John Latham has received a CBE for his services to Higher Education. Duncan Lawson, professor of mathematics education and co-director of sigma (a maths support service at Coventry University's library) has been awarded an MBE for his services to mathematics in Higher Education.
I am absolutely delighted to congratulate John on his award of a CBE in the Queen's Birthday Honours for services to Higher Education.

John's drive, leadership, commitment to innovation and service for over 30 years at Coventry University have been truly outstanding. He has played a leading role in our region's development, as well as promoting innovation on the national stage. John has made a transformational difference here and in the sector.

I am sure you will join me in congratulating John on this wonderful achievement, which I believe also serves as a powerful endorsement of the strength of our institution today and how well respected our university has become.

Coventry University Chair of Governors, Keith Bissett
Tens of thousands of students at universities across this country and internationally have enjoyed a transformed experience of studying the mathematical aspects of their courses, thanks to the innovative and determined work of Professor Lawson in championing, developing and disseminating mathematics and statistics support.

In 2016, Duncan's lifetime work was recognised by the award of the Institute of Mathematics and Its Applications Gold Medal for outstanding contribution to the improvement of the teaching of mathematics. This was the first time the Medal has been awarded in the field of mathematics education.

Newman University Acting Vice-Chancellor, Peter Childs
Both Professor Latham and Professor Lawson are delighted to have been nominated to receive these awards, which reflect their dedication to Higher Education spanning more than fifty years.