Coventry University Lecturer named as finalist in the European Inventor Awards 2019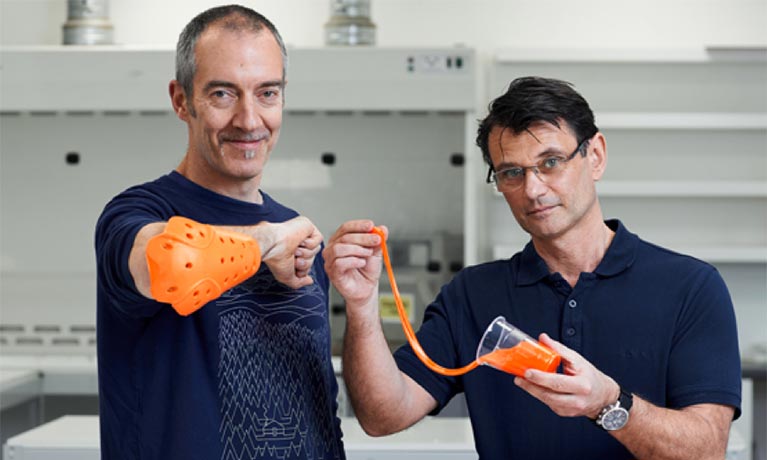 University news / Research news
---
Wednesday 08 May 2019
Press contact
---
A lecturer at Coventry University has been named as one of 15 inventors from around the world to be nominated as a finalist for this year's Popular Prize at the European Inventor Awards.
Senior Lecturer of Mechanical Engineering at Coventry University, Philip Green, and his business partner Richard Palmer have been shortlisted for developing a groundbreaking new smart material.
Their invention is a flexible, pliable material that locks together and solidifies in the event of a collision. The unusual properties of the material called D3O, after the lab in which it was created, absorb and disperse energy making it a perfect solution for a wide range of protective clothing.
Traditionally, protective clothing has consisted of rigid and uncomfortable padding which can hinder movement and performance. However, D3O, a flexible foam that softens on impact, offers the unique solution of providing comprehensive protection which actually moves with the wearer.
The property of a unique (dilatant) polymer which stiffens on impact due to forming instantaneous cross-linking bonds was developed back in 1943 but had only found application in novelty toys.

Our aim was to utilise this magical property to provide flexible body armour for a wide range of applications where freedom of movement was desired e.g. snowboarding.

By re-engineering the dilatant material we developed the smart material solution, D30, which provided both freedom of movement and very effective impact protection.

Philip Green
Today, D3O is used by leading brands providing body armour for a number of high impact sports across the world and is sold in over 50 countries. Philip and Richard are also looking at expanding into other markets such as defence, industrial work wear and smart device protection.
The Popular Prize award honours inventors, individuals or teams, whose pioneering work improves our lives, advances technology and creates jobs. The winner of each category and the Popular Prize, will be announced at an Award ceremony in Vienna on 20 June.
To watch a video about D3O or to find out more about the European Inventor Awards please visit the European Patent Office website.
---
For further press information, please contact Gemma Boden, Senior Content Officer, Coventry University, on 024 7765 7715 or email Gemma.Boden@coventry.ac.uk