Coventry University engineers bring child's design to life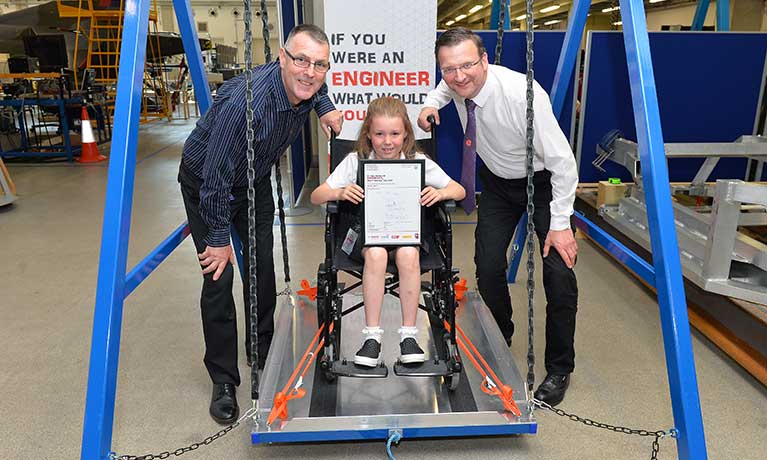 University news / Student news
---
Tuesday 02 July 2019
Press contact
---
A seven-year-old girl who won a design competition, aimed at encouraging school children to become engineers, has seen her bright idea brought to life with the help of Coventry University staff.
Belle Blakeston, who attends Marfleet Primary School in Hull, won the 'Primary Engineer Leader Award' with her concept of a 'mobility swing' in 2018. The Marfleet pupil was up against entries from schools across the country. The inspiration for Belle's winning design was the desire to give her wheelchair-using school friend, Blake Hostick, the experience of enjoying a playground swing again.
Tragically, Blake Hostick was diagnosed last year with Acute Necrotizing Encephalopathy (ANE) a rare brain disease which has left him unable to walk, talk or move his arms without assistance.
Belle Blakeston said 'One day, I would like to be an engineer and build a whole playground for people with disabilities because it is not fair that they don't always get to do the same things as everyone else.'
Staff at Coventry University's Engineering, Environment and Computing Faculty have now created a prototype 'mobility swing' based on Belle's design. The swing was built from scratch using steel and aluminium and is a prototype which will need to undergo safety tests before it can be used by children.
Visits to the playground are among the most enjoyable moments of childhood. We are delighted to have been involved in the creation of a prototype which will hopefully allow children who use wheelchairs to enjoy the simple pleasure of playing on a swing.

We hope that those children and young people who have been involved in the 'Primary Engineer' awards will be inspired to study and seek careers in engineering.

Colin Thorneycroft and Geoff Booth, both staff from the High Performance Engineering Centre at Coventry University
Coventry University is among a select few organisations to be part of the 'Primary Engineer' awards. Once the entries in the competition had been shortlisted, the designs they were then distributed to universities who were able to pick the one that most suited them.
On Thursday 27th June, the award presentation for 2019 'Primary Engineer Award' took place at Coventry University and the prototype of the mobility swing was available to view along with other shortlisted designs. This year there were more than 48,000 entries to the Primary Engineer Awards.