Coventry University students help Birmingham City squad get match fit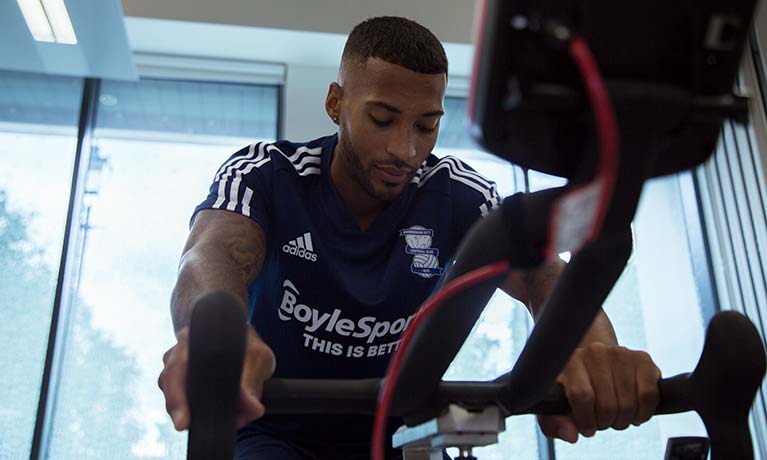 University news / Student news
---
Monday 24 June 2019
Press contact
---
Birmingham City Football Club (BCFC) players were put through their paces in a series of fitness tests overseen by Sport and Exercise Science students and staff at Coventry University.
BCFC, who are currently in the Championship, are gearing up for the start of the 2019-2020 season on the 3rd August.
Coventry University was chosen by BCFC to be a partner for the preparations for next season because the university is home to four specialised sport-science laboratories including a strength and conditioning suite, running track and sports therapy clinic.
The BCFC squad were invited to use the state-of-the-art equipment in the university's Alison Gingell building, including a 'Nordbord' which assesses hamstring strength and a 'groin bar'.
Working with the Birmingham City team has provided Coventry University Sport and Exercise Science students with a chance to demonstrate the knowledge and skills they gained in the course of their studies. It was a real privilege for our students to be able to collaborate with elite athletes and we hope that this experience has helped widen the scope of their career options.
Coventry University students monitored the BCFC team's maximum heart rate and blood lactate profiles while they ran on the treadmill. The squad also had their anaerobic performance put to the test in a gruelling 'Watt Bike' session.
The players have undergone a series of fitness tests which will help us identify priorities for pre-season training. We will also have the chance to revisit the facilities at Coventry University during the season to monitor the squad's progress.

Working with the university has allowed us to improve the team's pre-season preparations.