Coventry University awards Honorary Doctorates to a leading neuroscientist and a Dutch politician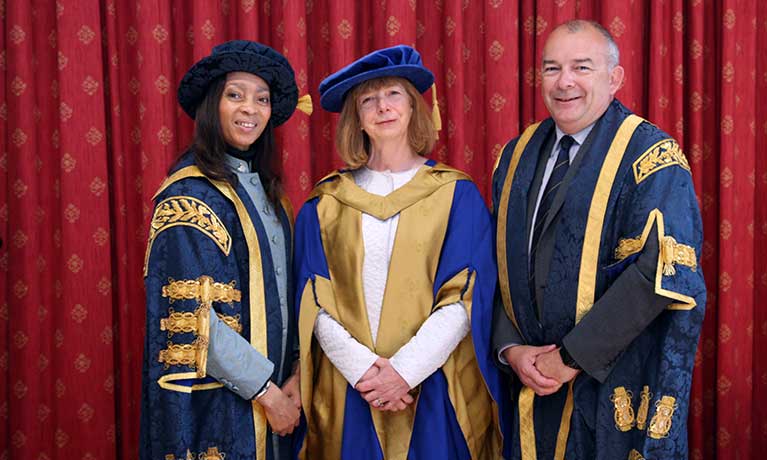 University news / Alumni news
---
Thursday 11 April 2019
Press contact
---
Leading neuroscientist, Dr Ruth Mckernan CBE and Dutch politician, Dr Ad Melkert are the latest recipients of Honorary Doctorates from Coventry University. Dr Mckernan CBE and Dr Melkert were presented with their degrees in a ceremony in Coventry Cathedral on Wednesday 10 April.
Dr. Ruth McKernan CBE, who becomes an Honorary Doctor of Sciences, is a neuroscientist known for her work in the biotech and pharma industries, as well as for her services to business and innovation for which she was appointed a CBE in 2013.
Dr McKernan is recognised for her work with Innovate UK, where she was chief executive for three years. Dr McKernan is a member of Science, Industry and Translation Committee of the Royal Society.
Dr Melkert, is now an Honorary Doctor of Letters. As a Dutch politician and diplomat of the Labour Party (PvdA) he was a contributor to RISING 2018 and will join the advisory panel at the University's Centre for Peace, Trust and Reconciliation.
Dr Melkert is recognised for his notable and lasting impact on Dutch national politics as a leader in the social democratic movement and served and led high-profile teams and programmes at the United Nations and the World Bank.
Dr McKernan and Dr Melkert met staff and students during a tour of the Coventry University campus and were guests of honour at a lunch in St.Mary's Guildhall.
Vice-Chancellor of Coventry University John Latham offered his congratulations to Dr McKernan CBE and Dr Melkert:
I am delighted that Coventry University is recognising the exemplary achievements of Dr Ruth McKernan and Dr Ad Melkert. They should be an inspiration to our students for their own careers in neuroscience and biotech, politics and global peace studies.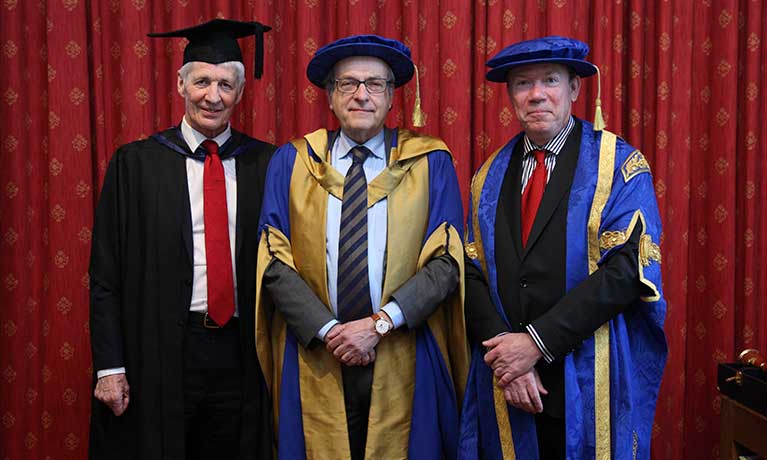 Image: Professor Mike Hardy, Ad Melkert and Professor Kai Peters (From left to right)
---
For further press information, please contact the press office on 02477 657788 or email press.mea@coventry.ac.uk