Coventry University and FEV join forces to launch £50m centre for cleaner mobility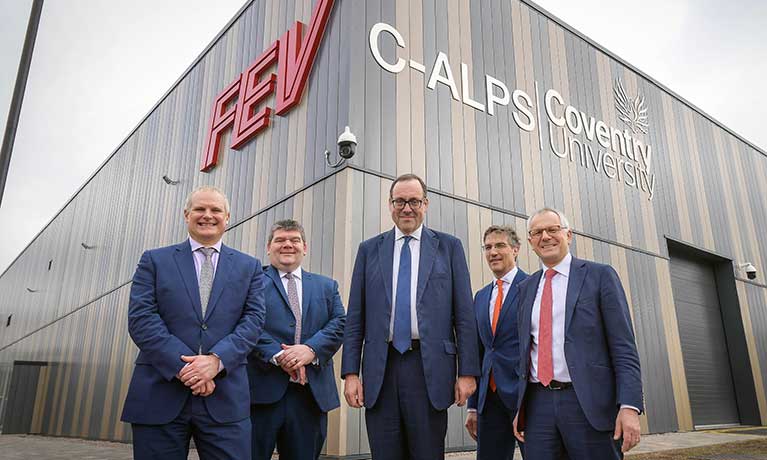 University news / Business news
---
Thursday 21 March 2019
Press contact
---
A £50m state-of-the-art facility for creating cleaner mobility opened in Coventry today giving a major boost to the UK automotive industry.
The Centre for Advanced Low-Carbon Propulsion Systems (C-ALPS), an innovative collaboration between Coventry University and global engineering specialist FEV Group, will harness cutting-edge academic and commercial expertise to support the development of the next generation of electric, hybrid and combustion engines.
Over 40,000 sq ft of purpose-built space on the university's Technology Park will house some of the most advanced internal combustion and electrification test bed facilities currently available in the UK, creating a dedicated resource for testing current and future powertrain solutions quickly and efficiently.
The capabilities will be available to OEMs, SMEs in the supply chain and technology partners keen to accelerate the creation of new propulsion systems for use across automotive, aerospace, marine and rail sectors.
36 new jobs will be created initially, with a number of apprentices and graduates from Coventry University already appointed.
Over 100 people from industry and local business groups were present today to mark the official launch of the facility – including Richard Harrington MP, minister for business and industry, and Ian Constance, CEO of the Advanced Propulsion Centre.
Mr Harrington said:
This centre is a fantastic example of how leading international businesses are working in collaboration with the UK's world-class universities to drive innovation.

This new centre will combine our heritage in automotive with our leadership in clean growth to develop advanced, cleaner propulsion systems and other transport technologies. Our modern Industrial Strategy presents the Future of Mobility and Clean Growth as global opportunities that the UK can lead in, helping create the industries of the future and highly skilled jobs."
Professor Richard Dashwood, deputy vice-chancellor for research at Coventry University, said:
This collaboration is very encouraging news and a welcome boost for the UK automotive industry. We have a real opportunity for the country to lead the rest of the world when it comes to developing low carbon propulsion systems and C-ALPS has a major role to play in making this happen.

It's all about bringing the best of both worlds together, using the expertise and track record of FEV Group in engineering consultancy and combining it with the academic knowledge of our professors to create a real centre of excellence that can attract funding, build capacity in the supply chain and, importantly, offer commercial testing services to car makers.

Automotive is naturally the first target, but the technology will also be available to support the evolution of other sectors."
FEV UK moved into the new facility in January and this will serve as its UK test centre, expanding its business operation here and further increasing the local execution of projects close to its customers.
The location in the heart of the Midlands automotive industry was a major attraction and the investment will create world class test bed facilities that will prove invaluable to the sector's move towards new powertrain solutions.
Operating within Coventry University's Institute for Future Transport and Cities, the C-ALPS centre has been designed by architects Broadway Malyan and built by Willmott Dixon to be the most advanced test facility of its type currently available in the UK.
More than £27m of capital investment alone has been channelled into the industry-leading building and in creating the infrastructure that will allow FEV's internal combustion and electrification test beds to satisfy commercial testing requirements for current and future powertrain systems.
It houses test benches for powertrain components, including turbochargers, catalytic converters, battery systems and electric machines.
Three professors have also been recruited to lead the research team, bringing with them significant experience and knowledge in battery storage, power electronics and electric machines.
---
For further press information, please contact Alex Roache, senior media officer, Coventry University, on 02477655050 or email alex.roache@coventry.ac.uk.