Coventry Law School students to compete at the UK Supreme Court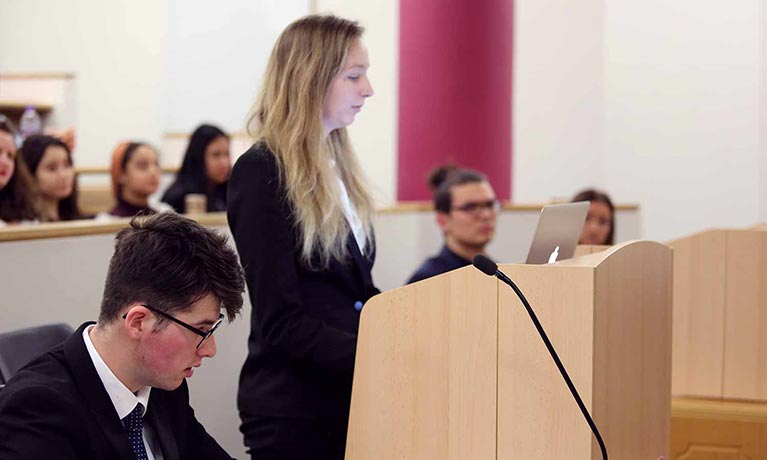 ---
Wednesday 20 March 2019
Press contact
---
Students from Coventry Law School are going head-to-head at the UK Supreme Court today in a test of their advocacy skills, which – as part of a nationwide mooting competition – will be judged by Supreme Court justice Lord Hodge.
Between February and May 2019, Coventry Law School will be one of 12 graduate law schools and university law societies holding the final of their internal mooting competitions at the Court.
Moots – mock proceedings in which two parties argue a point of law of general public importance before a judge – are designed to give students the chance to practice their advocacy skills by delivering a structured legal argument and making use of their legal research skills.
In deciding on the team to participate at the event, the university's law society organised elimination rounds in which teams from across the LLB cohort were invited to participate, before being whittled down the two teams who will compete against each other on March 20th.
The finalists also had the opportunity to hone their skills, in advance of their date in the Supreme Court, in a mock appellate court by arguing points of law surrounding the defence of consent in criminal offences, where they were judged by Barrister Rebecca Keeves, of Cornwall Street Chambers, who are long-time supporters and sponsors of mooting at Coventry Law School.
Amber Darr, lecturer in law and coordinator of the mooting competition on behalf of Coventry Law School, said:
We are very excited to visit the Supreme Court – it is a great opportunity for our students to test their mooting abilities in one of the most prominent courts in the world, and to have their skills judged by Lord Hodge, one of the UK's most senior judges.

We are proud to have a strong history of mooting at Coventry Law School, with a purpose built mooting facility located centrally on campus. Students have a range of opportunities to get involved in internal, and external competitions, such as the Lanchester Rose Cup, which sees us compete against Reading University.
Follow Coventry Law School on Twitter at @covlawschool.
---
For further press information, please contact the press team at Coventry University, on 02477657788 or email press.mea@coventry.ac.uk.