Coventry University students and staff test gaming experience on superfast 5G network slicing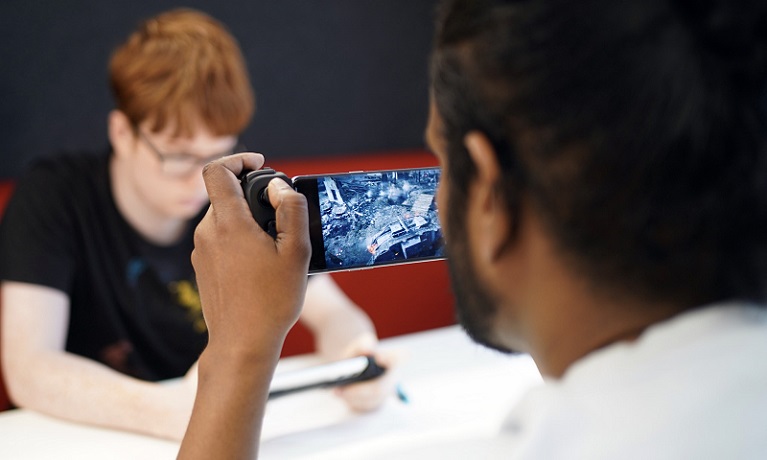 University news / Student news
---
Wednesday 04 October 2023
Press contact
---
Students and staff helped Vodafone and Ericsson complete an innovative live network trial at Coventry University to demonstrate how network slicing can enhance the mobile cloud gaming experience.
Using optimised 5G Standalone network slicing, a new technology that would allow Vodafone to customise connectivity services for specific customers and use cases, trial participants – including students from across Coventry University's College of the Arts and Society - were able to experience more consistent gaming connectivity with a 270% increase in download performance, a 25% decrease in latency and 57% less jitter, as well as smoother graphics rendering.
The trial was part of the ground-breaking 5G Standalone (5G SA) Media Innovation Lab and used the 5G network from the university's Alison Gingell building, which offers lightning-fast download speeds, near-real time latency capabilities, and network slicing.
The lab also supported testing for ITN's coverage of the Coronation of King Charles III, which became the first UK broadcast enabled by a public 5G SA network.
During the gaming trial students and staff played cloud-based games on smartphones under two connectivity scenarios.
Scenario A simulated the public network we connect to every day and Scenario B was an isolated 5G Standalone network slice that was optimised for cloud gaming.
Research conducted by Bryter, an independent gaming insights and consultancy agency, confirmed the success of the trial.
For Scenario A, 63% of triallists ranked satisfaction between 0/10 and 5/10, with only 13% ranking satisfaction above 8/10. Whereas, for Scenario B, 88% of triallists ranked satisfaction above 8/10.
Coventry University Digital Media student Lewis Philips agreed that Scenario B's network had higher download speeds, lower latency, reduced jitter, and no risk of network congestion.
As part of the trial, I got to play the same game on the same kind of mobile device but connected to two different networks. I was playing the multiplayer horror game 'Dead by Daylight' so I got to not only test how the network streamed to a mobile device but also how it impacted an online game.

I could clearly see the difference between the two networks, the first one had problems leading to a sub optimal experience whilst the second one which utilised the optimised network slice managed to match the experience I would get on most consoles.

Throughout the trial I was able to see the value of this technology and given time I can see the impact it will have on gaming specifically with the casual audience who cannot or do not want to spend money on consoles or PCs dedicated to gaming.

Coventry University Digital Media student Lewis Philips
University staff also participated in the trial and Dr Bianca Wright, Curriculum Lead for Immersive Technologies, hopes the experience inspires the students.
This trial was an exciting opportunity for students in courses such as Digital Media, Games Art and Media Production to experience cutting-edge gaming. It provided our students and staff with insight into how 5G can influence and shape the gaming experience and open up opportunities for high-end console-style gaming on mobile devices. We hope this inspires our students' own development work in gaming and other digital platforms.

Dr Bianca Wright, Curriculum Lead for Immersive Technologies
5G Standalone is not an upgrade on 4G, but an entirely new type of technology. Through this trial, we provided a slice of connectivity, customised specifically for gaming, to provide a full fibre-like experience over the airwaves. This is the value of network slicing – a more personalised connectivity service to make digital more in-tune with each customer.

Andrea Dona, Chief Network Officer, Vodafone UK
Discover more about digital media.