Transformation of Coventry's former IKEA building given the green light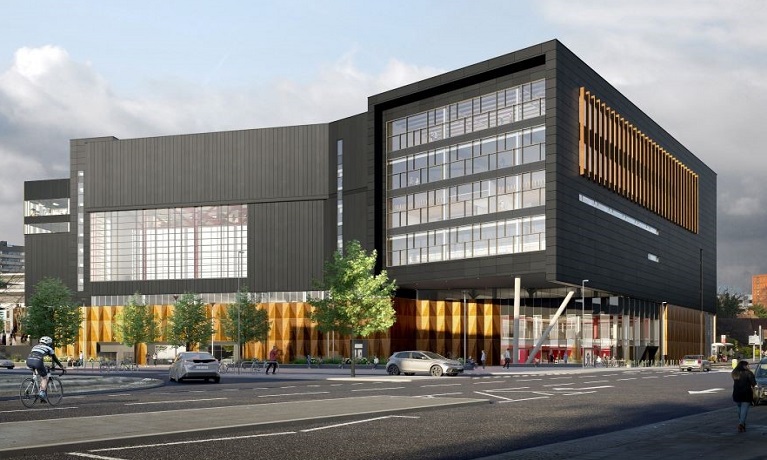 ---
Monday 05 June 2023
Press contact
---
Coventry University will play a key role in bringing the city's former IKEA building back to life as a vibrant cultural hub, after the project was granted planning permission.
Now known as the City Centre Cultural Gateway (CCCG), the landmark building will be repurposed to provide a new home for nationally recognised art collections and include a space for new research facilities.
Coventry University will create a cultural hub on the top two floors, with a range of facilities benefiting students, visitors and the community.
It is planned to house a gallery, café, library and exhibition space, conference area, artists' studios, post-production filming facilities and a shop where students can sell their artwork.
Public consultations took place prior to the planning application being submitted and residents were able to find out about the plans and provide feedback.
The Coventry City Council- led project will be delivered in three phases, and other collaborators include CV Life, Arts Council England, British Council and Arts Council Collection.
Phase one will see part of the building repurposed to become a Collections Centre of national significance where CV Life, Arts Council England, Arts Council Collection and the British Council will house their collections.
Phase two will see Coventry University transform floors five and six into a cultural hub, while the final phase will allow the council to enclose and future-proof the internal car park floors.
This will allow feasibility work to be undertaken to explore alternative uses for the new internal space created.
This is wonderful news for Coventry and we're thrilled that the university is playing a key role in bringing the former IKEA building back into use for the benefit of the city.

We want the whole community to feel that the university and its campus is accessible to them and our role in repurposing these two floors within the building as a new cultural hub, open to the public as well as students, reinforces this.

Professor Judith Mossman, Pro-Vice Chancellor at Coventry University's Faculty of Arts and Humanities
We recognise the importance of bringing one of the most prominent and recognisable buildings in Coventry back to life and with strong links with organisations across the city, Coventry University is well placed to help make that happen.

This is a great flexible space enabling us to offer an incredible range of facilities to students, visitors and the wider community. We're delighted that this project has been granted planning permission and we look forward to turning our exciting plans into reality.

Professor John Latham CBE, Coventry University Vice-Chancellor
We are delighted that planning permission has been granted for the City Centre Cultural Gateway. It is a significant milestone.

This visionary project will provide a dynamic and inclusive cultural hub for our city, and we are fortunate to be working with fantastic collaborators to make this happen.

Not only will it elevate Coventry's cultural landscape, but it will also reinforce our city's position as a vibrant cultural destination.

Councillor David Welsh, Cabinet Member for Housing and Communities at Coventry City Council
Find out more about the Cultural Gateway.