Coventry University to join transformation of city's former IKEA building into cultural gateway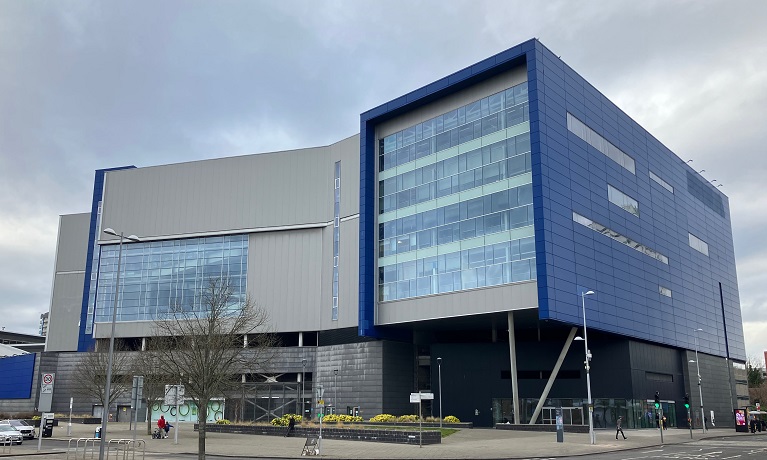 ---
Thursday 02 March 2023
Press contact
---
Coventry University is joining a project to bring the city's landmark former IKEA building back to life as a new cultural gateway.
The university is planning to create a cultural hub on the top two floors, with a range of facilities benefiting students, visitors and the community.
The university's two floors of the proposed City Centre Cultural Gateway would house a gallery, café, library and exhibition space, dance studio, conference area, artists' studios, post-production filming facilities and a shop where students can sell their artwork.
It would also include teaching and research spaces.
Many of these facilities would be open to the public or available to hire and will serve as a lasting legacy of Coventry's 2021 year as UK City of Culture. It would also add to the university's recent investment in cutting edge arts facilities at its new Delia Derbyshire building, in Cox Street.
It would provide a new home for Coventry University's FabLab, which supports local people and businesses to learn new skills, and could lead to a range of new arts and heritage courses, including short courses, being offered.
If the plans are approved the hub could open in Autumn 2025 and would see the university joining Arts Council England and the British Council in the building.
The landmark project would see Arts Council England and the British Council relocate their current collections to within their parts of the former IKEA building, becoming home to some of the country's greatest works of art and providing greater public access to Coventry's own cultural and heritage collections.
It is hoped the site will become a busy centre for art which will support UK and international audiences with exhibition loans.
This is all about allowing everyone, whether they be students or members of the community, to engage with culture at any level. This will be of huge benefit to Coventry, it will be accessible to the public. The university is a big part of the city and we want people to feel they too can use the campus.

The space itself is enormous but it's incredibly flexible, it was divided into different rooms when this was set up as IKEA, so it can be fitted out in different ways. In my opinion this is a handsome building and a landmark building in the city, it was sad when IKEA left but we believe we have come up with an imaginative solution to bring it back to life to the benefit of students and the wider community.
We are thrilled to be playing a key role in this project which aims to breathe new life into one of Coventry's most prominent buildings. The cultural hub would bring great benefits to both students and the public by making cultural activities and experiences accessible to all.
We are delighted that Coventry University will be part of this important and exciting project which will benefit the people of Coventry.

Coventry University will be utilising the top two floors of the building that we are creatively repurposing, to make a new cultural hub. It is fantastic that the university's state-of-the-art facilities will be open for public use.

This is another key part of the City Centre Cultural Gateway project, which is led by Coventry City Council, and further supports our ambition of working with organisations to create a new cultural space in the city which is accessible for the community.
We are proud to have invested in the City Centre Cultural Gateway and to be supporting the creation of a new state-of-the-art space for Coventry.

During its time as City of Culture 2021, creativity in Coventry was given time and space to flourish and change lives across the city – and transforming the iconic IKEA building into a hub which celebrates, inspires and protects the arts so that everyone can enjoy them now and in the future is a very fitting legacy.
Find out more about Coventry University's Faculty of Arts and Humanities.