Professional footballer with Wembley experience says going to Coventry University was the "best thing I have ever done"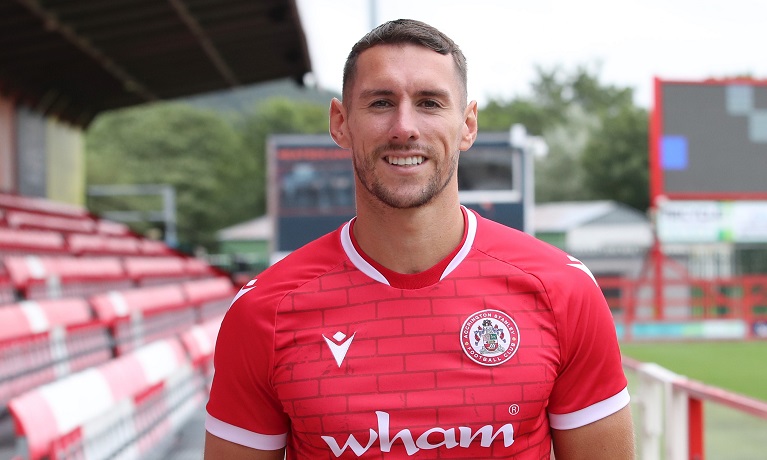 ---
Monday 25 September 2023
Press contact
---
A professional footballer says that going to Coventry University when he was unsure what his future would hold was the "best thing I have ever done".
Matt Lowe currently wears the number 9 shirt for Accrington Stanley and has already lifted a trophy at Wembley in his career – something that he says the university played a "major part" in happening.
Having been let go by Coventry City FC's academy at 16, Matt made the move to Cambridge United where he spent two years on a scholarship and then the next two years playing professionally.
But then suddenly the (Cambridge) manager who liked me left just before it looked like I was going to make my debut. The new manager came in and I knew straight away it wasn't going to work. I went on loan for the rest of the season and then spent six years at Brackley Town.

It was tough coming out of full-time football. I didn't have any real qualifications and was working at my friend's pub to make ends meet – it was a tough time for me and I knew I had to get things prepared as football might not be around forever.

Matt Lowe
The assistant manager at Brackley at that time was Coventry University senior lecturer in sport and exercise science, Mark Noon, who told Matt about the avenues open to him at the university.
Matt, 27, took the opportunity to study for a foundation year at CU Coventry before doing a sport science degree at Coventry University while part of the sports scholarship scheme - although Matt admits it wasn't all plain sailing.
In the first year I was a bit hit and miss. I wasn't going to the gym enough or using the strength and conditioning as much as I should have. That was probably one of my worst seasons in football – I was physically under-developed. In the second year I thought this is stuff that will benefit me going forward and started to really knuckle down.

I was going to the gym twice a week and started to notice the difference, not just in how I felt and looked, but also my performance on the pitch. We won the FA Trophy at Wembley that year and I played a big part in that. I was playing 50 games a season, but it was all a blessing in disguise and the university played a major part in my success then.

Matt Lowe
Matt, who added on a further year to his studies for teacher training, also praised the university's nutrition workshops, stating that he still uses the knowledge he learned to this day to keep him in the best shape possible.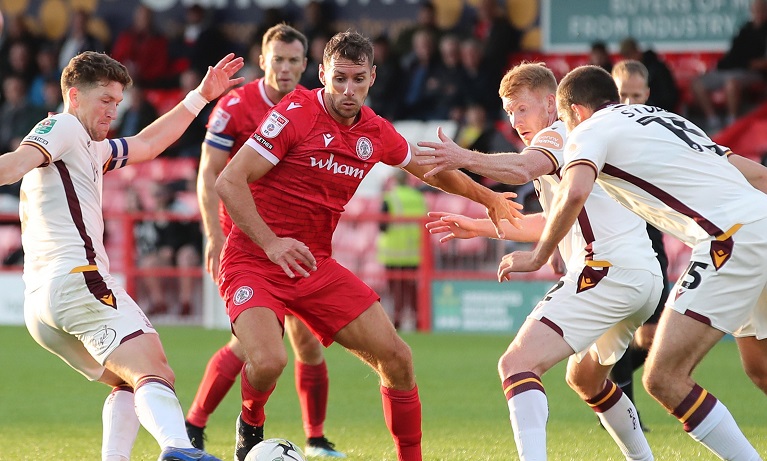 Going to Coventry University was the best thing I have ever done and it's something no-one can take away from me. A first-class degree is something I never thought I would achieve and it took a lot of hard work and dedication. Having my degree means that while there is the pressure from within that I put on myself, I have something to fall back on. Now I can go out and enjoy myself and see how far things go. My position before at Brackley wasn't bad at all and I could have had a good career in non-league football, with my teaching alongside it. But I wanted to get everything behind me and if the right opportunity came up I could take it, and not everyone gets to join a League One club at the age of 26. I'm one of those people who lives with no regrets."

Matt Lowe
After a tough first season at Accrington Stanley following his move from Brackley Town, which saw Matt miss around seven months of the campaign due to injury, he is now trying to fight his way back into the starting XI as they look to bounce back to League One following last season's relegation.
And away from the pitch, Matt admits that being part of the Accrington Stanley family brings with it the inevitable references from people to the famous 1980s advert that included the line: 'Accrington Stanley...who are they?'.
He said: "It is always the first thing people say - I see the funny side of it."
Matt was always a great character to have on the programme, but it wasn't until he started to take advantage of the support that he really transformed into a top student athlete.

While not the most common route for many footballers, it shows what a great option university can be. For Matt it offered the opportunity for a fantastic career in teaching and a path back into the professional game. We are thrilled to see all of Matt's hard work paying off and look forward to following his future careers whether it be on the pitch or in the classroom.

Tom Shakespeare, Coventry University's sports scholarship performance manager
Find out more about our sports scholarship scheme.