Coventry University student uses her own experience of depression to create wellbeing pack for patients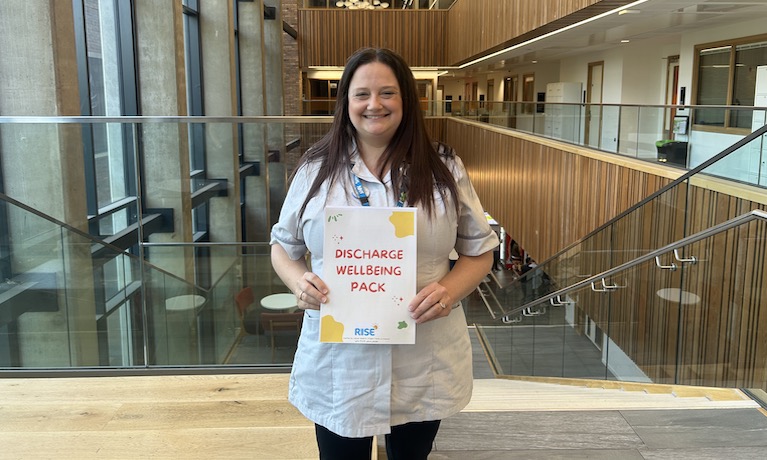 ---
Tuesday 25 July 2023
Press contact
---
A Coventry University student who decided to retrain as a mental health nurse after her own battle with depression has created a wellbeing pack to help others in a similar situation.
Leanne Howlett's career change saw her leave her job as a solicitor after suffering from postnatal depression. The care she received inspired her to go into mental health nursing and she is now in her third year of her course at Coventry University.
While on placement with RISE - Coventry and Warwickshire's specialist mental health service for children and young people - Leanne saw an opportunity to help patients that were being discharged and developed a pack of resources that has earned her a nomination for a national award.
I very quickly realised how difficult a time that discharge was for the patients, how unsettled it made them feel, and how the presentation of change would make them start to display symptoms of risk, anxiety and depression.

Leanne Howlett
This led to Leanne creating a wellbeing pack that is now being handed to patients within RISE when they are discharged from their care. The pack combines a mixture of the skills the patients have learned, reassures them about being discharged and empowers them to understand that they are ready for it and that they are the ones who have done all the work. It includes information on sleep hygiene skills, grounding techniques, coping strategies and summarises everything they have learned over their time with RISE.
Talking about her own experience of being discharged from perinatal mental health services, Leanne, from Warwick, said:
I remember how scary a time it was and even though I knew I was well enough and I was ready to be discharged, I was worried about being on my own and what was next because I wanted that security blanket of the health practitioner there.
What was really interesting was how Leanne went out to practice and utilised what she had learnt on this module and created a discharge pack for the RISE team whilst on placement. This was quite unusual because she didn't just see a need for change or a gap in patient care but she did something to support it.

Seeing that theory put into practice is what you hope for on these modules. You really hope that students take that learning and put it into action.

I don't think I quite expected it to be as quick as that, but it's hugely inspirational and I'm so pleased that it's been recognised not only by the RISE team, but they've then also nominated her for Student Nurse of the Year, which is hugely justified.

Jo Durham, nursing lead on the Leadership and Management Module
The RISE Discharge Wellbeing Pack will transform daily nursing practice. It will support in celebrating the progress and futures of the children and young people who have accessed our service.

On behalf of RISE and CWPT, I would like to take the opportunity to say a big thank you for the difference it has, and will continue to make, in the lives of so many young people.

RISE Lead Nurse Nicola Evans, from Coventry and Warwickshire Partnership NHS Trust (CWPT)
As well as RISE rolling it out officially, the pack could also be adapted by other teams including children's nursing practitioners.
Leanne credits her course at Coventry University for giving her the confidence to not just spot a problem that needs fixing, but to actually do something about it using the skills she has learned.
On top of this Leanne's work has seen her shortlisted as a finalist for the RCN's Student Nurse of the Year award which she was nominated for by the RISE team.
I'm so honoured to have been shortlisted for student nurse of the year and it feels like a really wonderful way to end to my time as a student nurse. I really hope I can inspire other students to know that they can make a difference.

Leanne Howlett
RISE specialist mental health service for children and young people forms part of Coventry and Warwickshire Partnership NHS Trust.
More details on Coventry University's Mental Health Nursing course can be found here.