Boxing talent goes from Coventry University to sharing promoter with world champion Tyson Fury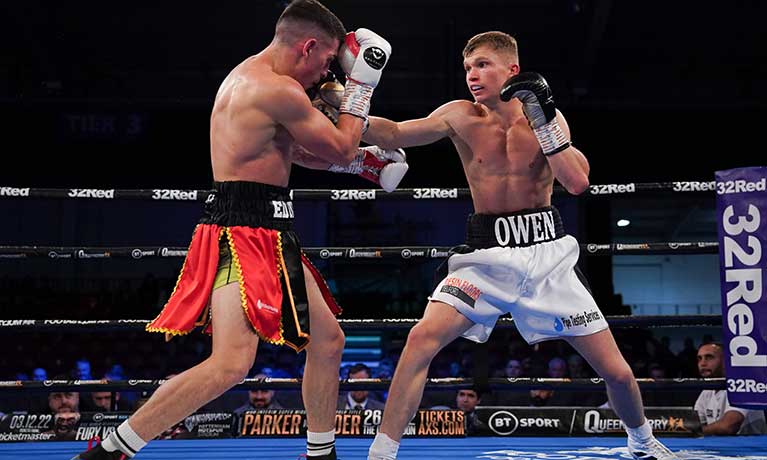 ---
Monday 21 August 2023
Press contact
---
A rising boxing star who honed his talent at Coventry University has signed with the same promoter as world champion Tyson Fury.
Macauley Owen was resurfacing roads when he first heard about what Coventry University could do for his boxing career, as well as his academic future. He applied for a place on the university's sports scholarship scheme and hasn't looked back since.
Now he is on the books of promoter Frank Warren, whose current list of stars includes 'the Gypsy King' Tyson Fury and Daniel Dubois, and he previously represented legends of the ring such as Nigel Benn and Joe Calzaghe.
Macauley's time at Coventry University began following a conversation with his coach Shiney Singh, who also coached at the university.
I was labouring at the time, resurfacing roads, having done an advanced apprenticeship for a diploma in sport and boxing. Shiney told me about the scheme and the facilities at Coventry University, and I've always been into sport and the thought that I might go to university, so as soon as a I found out I could learn while doing boxing, I applied.

I made the most of university and it was really enjoyable. All I wanted to do was boxing – I saw people going out partying, and I'm sure they had fun, but it wasn't for me. I made the most of everything on offer; strength and conditioning, nutrition, met some incredible athletes which made it even more enjoyable.

I made the most of the support services as well which helped give me more time for some assessments. I would be preparing for a boxing event and would be stressed about getting an assessment in on time and the university would provide me with options.

While at Coventry I also realised that what I was learning was a chance to help others and to be able to learn that is something I hold very highly.

Macauley Owen
After four years at Coventry University, Macauley graduated with a degree in sport and exercise science and a masters in sport nutrition. His upward trajectory has continued into his professional boxing career which has begun with six wins and no defeats.
And the 26-year-old says it is that personal drive that led him to university in the first place and whatever comes next.
I started boxing as I liked to fight as a kid – I was very mischievous," Macauley said. "I wanted to box for a while, but my parents wouldn't let me as they thought I would just use it out and about.

But when they did let me go, it sorted me out. It taught me about morals and respect. If you aren't respectful (in the ring) you will get a good hiding.

Boxing is not just a living, it's a religion, and that's what led me to go to university. If I didn't have that self-efficacy I wouldn't have had the drive to go to university.

Macauley Owen
His performances in the ring as an amateur caught the eye of promoter Frank Warren. Warren's team signed up Macauley on a professional basis and the fighter can't wait to see what they can achieve together.
I want to know what they have planned for me. I want to be in the sport for some years to come – I know where I want to be and want them to come back to me with a route for that rather than just the next fight.

Moving forward I will take things as far as I can. I used to tell people I'd get a British title, but I don't want to put a limit on things.

Macauley Owen
Macauley was fantastic to work with during his time here. Although a very talented boxer, it was his inquisitive nature and dedication to his sport, studies and our support services which really stood out.

In my experience, talented athletes make very good students, but the biggest challenge is time management and balancing all of the commitments involved. We offer a comprehensive support package to help with this and Macauley is a great example of how a student athlete can reach their full dual career potential at Coventry University.

We look forward to following Macauley's progress in the professional ranks and I'm confident that he has a bright future inside and out of the ring.

Tom Shakespeare, Sports Scholarships Performance Manager at Coventry University
Find out more about Coventry University's sports scholarship scheme.