TV personality and STEM leader officially opens Coventry University's Beatrice Shilling building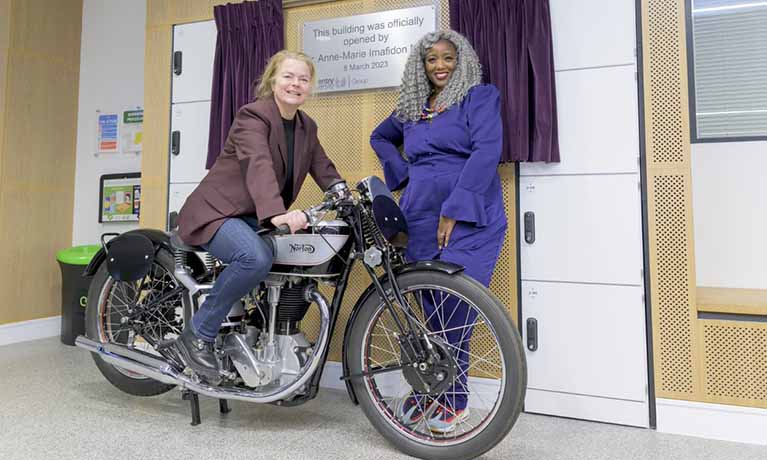 ---
Thursday 16 March 2023
Press contact
---
TV personality and computer scientist Dr Anne-Marie Imafidon MBE helped Coventry University celebrate International Women's Day by officially opening the Beatrice Shilling building.
It is the third facility in Coventry University's Faculty of Engineering, Environment and Computing and has been named in honour of Beatrice 'Tilly' Shilling, who was one of the most significant engineers of her time, best known for her contributions to the Rolls-Royce Merlin engine used in Second World War fighter planes.
The March 8 date was apt as it would also have been Beatrice's birthday. Her great-niece Jo Denbury was on hand to join Dr Imafidon, past and present members of Coventry University's Women in Engineering Society, and Professor Catherine Hobbs, Academic Dean of the Faculty, on stage during the celebrations.
Countdown star Dr Imafidon, who is the co-founder of Stemettes, a social enterprise promoting women in STEM (science, technology, engineering and mathematics) careers, and who has received an Honorary Doctorate from Coventry University, unveiled the official plaque and made a powerful speech about the power of diversity in innovation.
The university also unveiled the Gallery of Hidden Figures celebrating the diversity of female engineers' achievements and showcased the faculty's four schools - the School of Future Transport Engineering, the School of Computing, Mathematics and Data Science, the School of Mechanical Engineering and the School of Energy, Construction and Environment.
This was about visibility, diversity and celebrating her-story (women's history).

It is also about increasing visibility of women in STEM and hopefully inspiring more young people to consider a career in the area.

Dr Anne-Marie Imafidon MBE
This is a building for our engineering and computing students and a space for enhancing our students learning by giving them places to work, socialise, take part in labs and workshops and get hands-on, real life experiences of the workplace.

We have named our building after Beatrice because she was a pioneering engineer who was ahead of her time. She studied electronic engineering and went on to make a huge difference during World War II.

Her engineering excellence and determination to succeed are things we'd like our students to be aware of and emulate as they go out to change the world and create better futures.

Professor Catherine Hobbs, Academic Dean of the Faculty of Engineering, Environment and Computing
Coventry University student ambassadors gave people tours of the new facilities and helped out during an outreach event that kick-started the celebrations. A display of Lotus cars and an original Norton motorcycle were also part of the event.
The university's Outreach team welcomed six schools from across Coventry and award-winning Maynooth University academic Dr Katriona O'Sullivan gave an inspirational talk about her journey.
Dr O'Sullivan grew up in poverty in the Hillfields area of Coventry and now leads the STEM Passport for Inclusion project, the largest nationally-funded project in the Republic of Ireland that aims to ensure all working-class girls have access to STEM education and employment.
She returned to her home city to speak to Year 9 students from across the area about the power of education.
I told the children about my story and about how I went from poverty to being an academic in Ireland.

Coming back to Coventry and telling my story was so special. I hope all of them have an amazing experience in school but if any of them doubt themselves, think they are not clever, or science, technology, engineering or maths is not for them, I hope I made them think differently.

I want to make sure that on International Women's Day every girl understands that they have a place and belong in STEM.

If you can find something that makes you happy and makes you feel alive then try to pursue that.

Dr Katriona O'Sullivan
Discover more about Coventry University's Faculty of Engineering, Environment and Computing.