Coventry University graduate wins Oscar award for work on The Boy, the Mole, the Fox and the Horse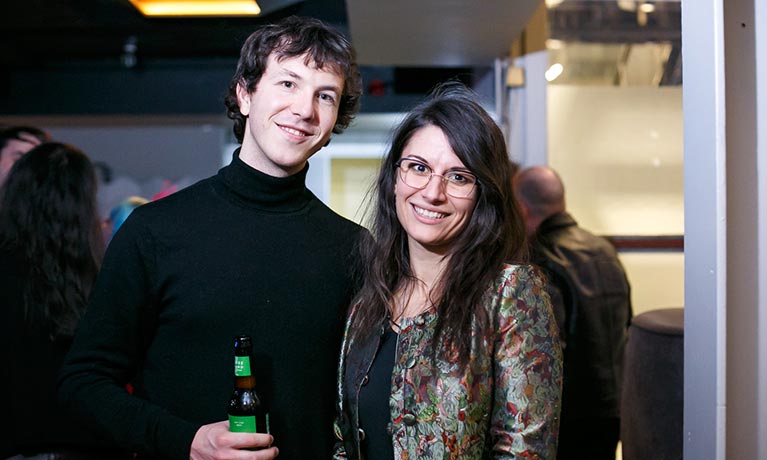 ---
Friday 17 March 2023
Press contact
---
A Coventry University graduate says it is "insane" that she has become an Oscar and BAFTA award winner.
Alexandra Sasha Balan, who studied Graphic Design and Illustration at Coventry, was part of the incredible team behind The Boy, the Mole, the Fox and the Horse which claimed the Oscar for Best Animated Short at Sunday's glitzy awards in Los Angeles.
It comes just weeks after the 32-year-old, who is known as Sasha, and her colleagues celebrated winning the BAFTA Award for Best British Short Animation for the same piece of work, based upon Charlie Mackesy's much-loved book which has sold more than eight million copies worldwide since 2019.
Sasha says her studies at Coventry University prepared her for the hard work that went into The Boy, the Mole, the Fox and the Horse, although she still finds it hard to believe what she has achieved.
It's insane. I'm overwhelmed with emotion. I stayed up to watch the Oscars from midnight and it was at about 2am it [the win] was announced. The buzz meant I couldn't sleep until about 4am.

It was such a wonderful surprise to have Pedro Pascal present the award as I'm a massive fan.

Alexandra Sasha Balan
Sasha said that it was during the last six months of her Graphic Design and Illustration studies at Coventry that she first tried animation and "fell in love with it", while it also taught her to how to make her final products "as clean as possible as fast as possible", which came to the fore during her role with The Boy, the Mole, the Fox and the Horse.
She particularly wanted to thank members of staff at the university including Francis Lowe, course director for BA Illustration and Animation, Andrew Spackman, course director for the BA Illustration & Graphics, Philip Perry, a graphic design lecturer, skills instructor Pete Hnatushka and Simon Bell, another graphic design lecturer at the time she was studying.
Sasha was a born storyteller. She had a gift for telling stories in pictures that lent itself perfectly to a career in animation.

She was always refining her craft and it's wonderful to see her hard work and talent being applied to such a beautiful and now renowned project. Her success will undoubtedly provide inspiration to those who come after her.

She has kept in touch over the years to let us know what she was doing and how she was getting on. And, of course, we are over the moon for her for being part of an Academy Award-winning animation. We've always been proud of her.

Francis Lowe, course director for BA Illustration and Animation
Following her graduation from Coventry in 2012, Sasha moved back home with her parents in Romania for a few months before being contacted by an independent London art gallery which wanted to exhibit some of her degree show works, an opportunity that saw her move to the capital.
After several years working in the animation industry, I'd networked with enough people that I got invited to be part of The Boy, the Mole, the Fox and the Horse production. It was literally just getting an email from a producer asking me if I was available and I said yes, not even knowing the magnitude of the project.

Alexandra Sasha Balan
The short film eventually featured the voices of Tom Hollander as The Mole, Idris Elba as The Fox, Gabriel Byrne as The Horse and newcomer Jude Coward Nicoll as The Boy, and was aired on the BBC on Christmas Day.
Sasha has also worked on a number of other films including We're Going on a Bear Hunt and Dora the Explorer, as well as adverts for the likes of Sky Sports, Disney Channel and ITV's coverage of the 2019 Rugby World Cup.
Find out more about the university's BA Animation course.