Young footballers work with Coventry University to help tackle sporting injuries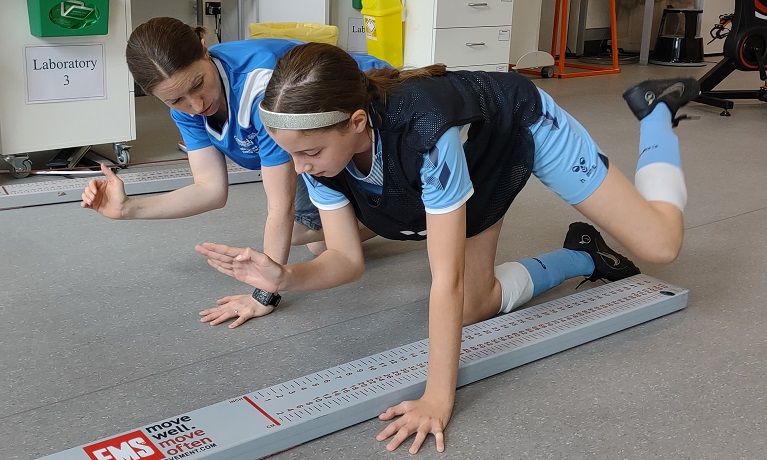 University news / Research news
---
Monday 05 September 2022
Press contact
---
As youth football hopes for a boost following the success of the England women's team, Coventry University has opened up its state-of-art facilities to get the next generation interested in the science behind football – and help vital new research.
Girls and boys aged 7-13, from football teams in Nuneaton and Bedworth, Tamworth and Coventry, took part in a series of one-day Football Science events at Coventry University last month.
They were given the chance to take part in the same fitness tests Coventry University uses with professional senior and academy level footballers and experience how motion capture is used to assess kicking in real football and in videogames such as Fifa21.
The children also got the chance to learn about decision making on the pitch via the use of eye tracking technology.
Practical coaching sessions with UEFA A qualified coaches took place too and the children participated in fun sessions measuring football skills and movement ability.
During the event, researchers from Coventry University examined how the children moved whilst practicing different football skills and sporting movements, all whilst ensuring the children were in a safe environment.
Serious ACL injuries are more common among women footballers than men. While there is considerable research into such injuries among adult athletes, there is much less among children. One of our aims is to identify which kinds of movements children make which could potentially increase their likelihood of getting injured as they become adult athletes

Such work could be used to improve the quality of their training and we'd like to share our findings with larger sporting organisations such as The FA. If we're to develop successful footballers and help them avoid injury, it's important learners do the basics well first.

This isn't just about children helping us with our research, we have amazing facilities here at the university and this is a great opportunity to open them up for use by the community.

Michael Duncan, Professor in Applied Sport and Exercise Science
Lilly and twin sister Elodie, 11, both took part in the event.
I've really enjoyed today, I've been playing football for a long time and it was great watching the Lionesses at Euro 2022, but I've never really thought about the science behind football before, it's really interesting.

Lilly
Finding out about how your muscles work when you do different exercises has been fascinating, it's been really fun.

Elodie
Find out more about Coventry University's Sport and Exercise Science BSc (Hons) course.