Coventry University supporting the NHS to recruit more nurses in the region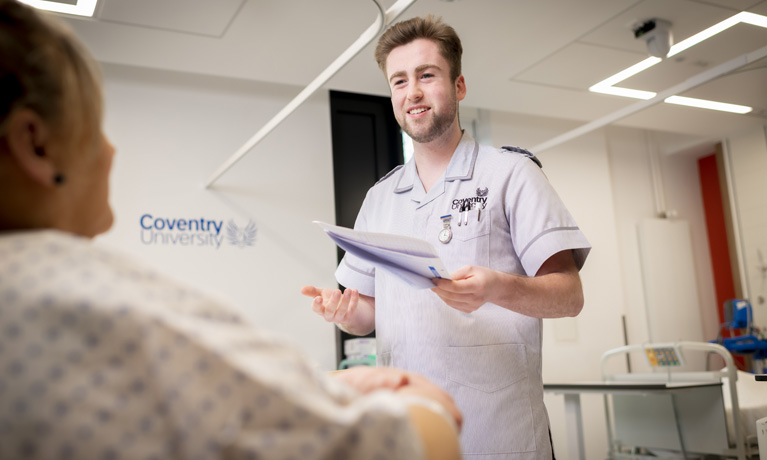 ---
Wednesday 17 August 2022
Press contact
---
The NHS in Coventry & Warwickshire has set out to recruit an extra 1,000 nurses to staff the region's health and care services.
'Project 1000' is an ambitious local plan to recruit 1000 nurses over the next five years in Coventry and Warwickshire, as part of the NHS response to the national shortage of nurses.
A key part is to attract students within Coventry and Warwickshire onto nursing courses so that they can live and work in the area.
Coventry and Warwickshire Integrated Care System (ICS) is working in collaboration with Coventry University to attract local talent to enrol on nursing courses and join a community of future nurses.
Students are invited to attend the University's Nursing Careers Open Day on Saturday 20th August 2022 10am to 3pm.
There are places on courses starting in September and January 2023 including:
Last year, nurses played a pivotal role in tackling the coronavirus, helping to administer more than 1 million doses of the Covid-19 vaccine to local residents and Coventry University student May Parsons even administered the world's first vaccine outside of clinical trials.
The ICS is keen to attract the next generation of nurses to join this community of healthcare professionals dedicated to supporting and improving the health outcomes of our local population.
The course at Coventry University is absolutely perfect for me, I'm a single parent so having the flexibility of a blended learning course is wonderful. I'm currently on a placement at Warwick Hospital in the Endoscopy Department and I'm loving it, you just show that willingness to learn and everyone is so helpful, it's a really supportive environment.

I'm a mature student and I lived abroad for a long time, before I came back and worked in the finance department at the Shakespeare Hospice. I was inspired to take up a career in nursing after seeing the palliative care they provided for their patients, I just wanted to get out from behind a desk and do something hands-on to help people.

Sharon Hanson, second-year nursing student on the BSc Adult Nursing blended learning course at Coventry University
NHS Trusts across Coventry and Warwickshire will be looking to offer opportunities to students to work as Health Care Assistants (HCAs) in the region whilst studying.
Coventry University's Faculty of Health and Life Sciences continues to provide job-ready graduates for the NHS with more than 90% of graduates from Midwifery, Occupational Therapy, Adult Nursing, Mental Health Nursing, Dietetics and Physiotherapy courses moving into work or further study within 15 months of completing their studies, using their skills and creative thinking to improve their communities.
The university offers flexible options for students to enrol. Individuals can apply directly if they have three A levels or via the Clearing process.
We are delighted to be working closely with our practice providers from the NHS across Coventry and Warwickshire to see how we can continue to develop and transform nursing careers for the next generation.

We hope the 1,000 nurses campaign will open up more placement opportunities across health and social care to allow us to increase the number of places we have on our nursing courses.

We have created lots of different ways to study to allow more people to train for careers in health and social care and thanks to our blended nursing degrees, apprenticeships, and return to practice courses we were able to enrol 1,753 new students on our nursing courses (including nursing associates) at our locations in Coventry, London and Scarborough in 2021/22.

We look forward to working with our local NHS providers to help people from Coventry and Warwickshire develop skills and creative thinking that will help them deliver excellent care to our community.

Coventry University Pro-Vice-Chancellor for Health and Life Sciences Professor Lisa Bayliss-Pratt
Coventry University's Open Day events are designed to give you the information you need to make an informed choice, as well as opportunities to explore the site.
Book a place here or drop in at The Hub.