New mural created by Coventry University student captures the journey towards a low-carbon future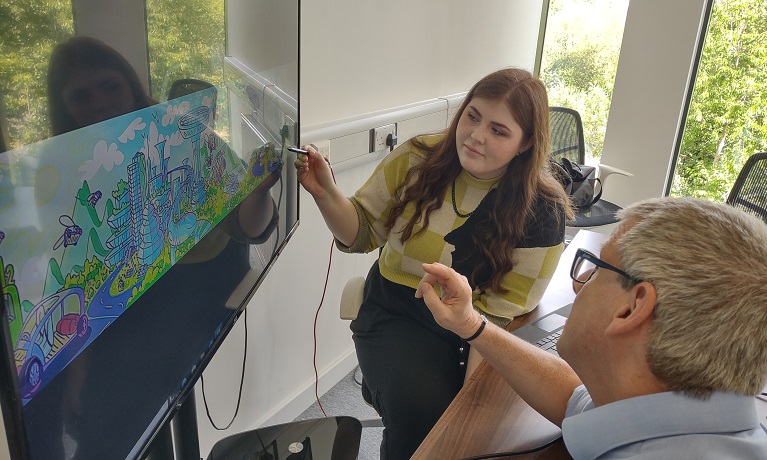 Student news / Research news
---
Tuesday 30 August 2022
Press contact
---
A new mural depicting the journey towards low-carbon technologies is set to be installed at Coventry University following a competition involving art students.
The winning artwork, created by Illustration student Lauren Murray, 21, represents different renewable technologies, and even looks to the future with the inclusion of flying vehicles.
The competition to create the mural was organised by Coventry University's Centre for Advanced Low Carbon Propulsion Systems (C-ALPS), and the BA (Hons) Illustration courses, with around 15 entries submitted for consideration.
It will be installed later this year within the C-ALPS laboratory.
This was the first time I'd done a professional commission; I've been taught about the process throughout my course, but to actually do it was really interesting. I wanted to create something that was green and vibrant and my initial design was inspired by a garden, so the cars resembled beetles and one of the buildings looked like a bird bath.

After doing some further research about the work of C-ALPS I refined my design, trying to show the process behind the creation of hydrogen fuel cells. An artist never sees their work as finished, but I'm pretty happy with how it turned out.

My course at Coventry was great, my style has definitely developed and I really enjoyed the group working and the way we talked through ideas with one another.

Lauren Murray, who graduated this year from her course in Fine Art and Illustration
The standard of all the entries was excellent and Lauren's mural will make such a difference in the Laboratory, it'll really brighten up the space.

Everyone here got to vote on which mural they wanted, I like the way blues and greens, which are colours associated with renewable technology and electric vehicles, have been incorporated into the design and also the way it looks to the future, with the nod to science fiction.

The artists involved in the murals were happy to receive our feedback and take these comments on-board when putting together their final submissions. It's been a great project, not only will we get a fantastic mural, but the artists get the experience of working to a specific brief and with a client to put together something interesting.

Tony Smith, Laboratory Manager at C-ALPS
Two runner- up designs will also be created, one of which will also go in the Laboratory, while the other one will be installed at a local school.
Tony added that some of the students involved in the mural project are planning to speak to local school children about the work being done by C-ALPS and the move towards low-carbon technologies.
Professionalism is a key part of the course right from the beginning, our students learn how to market themselves, how to work with clients and businesses and they all take part in an external project.

All students have their own visual style and Lauren has a strong visual signature, her work feels unique which helped bring the subject to life. The way she approached this project has also been very professional, she was happy to take feedback from the client and adapt her work to their suggestions.

Andy Spackman, Course Director for BA (Hons) Illustration
Find out more information about C-ALPS and Coventry University's Illustration BA (Hons) course.