Love listening to music while driving? Researchers find that playing certain songs may do more harm than good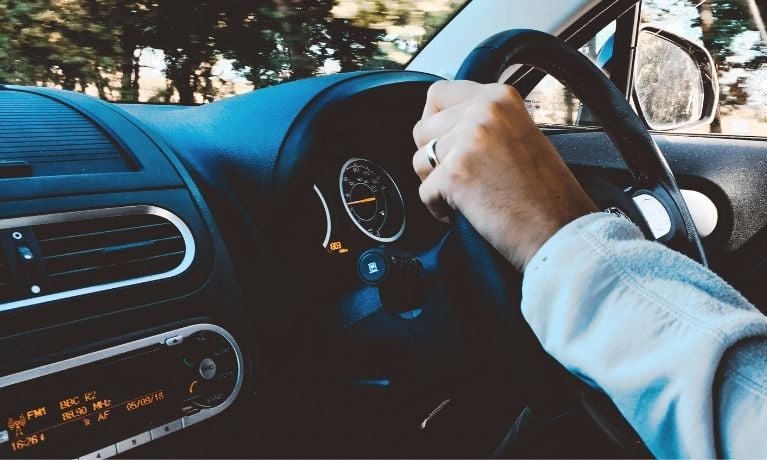 ---
Friday 18 March 2022
Press contact
---
Innovative research conducted at Coventry University shows that the music you listen to while driving can affect your overall performance.
Researchers from Coventry and Brunel University have found that when driving in certain challenging environments or situations, such as navigating urban roads and overtaking, it's best to listen to slower music. This is because these instances demand a higher amount of brain processing power, meaning that fast, loud, and rhythmic music can lead to mental overload and more risky behaviour on the road.
To test the theory, researchers used the National Transport Design Centre's (NTDC) state of the art driving simulator to analyse how driving behaviour changes with different types of music playing.
We were asked to take part in this research by Brunel as we specialise in analysing passenger behaviour and experience in order to create safer transport. We also have a top-of-the-range driving simulator where a 210-degree curved screen wraps around a car replica that drivers can operate with a real steering wheel, gearbox and pedals. This increases the immersion, realism and the ecological validity of our results compared to, for instance, a survey-based study.

William Payre, an Assistant Professor in Transport Design and Human Factors and Coventry University's lead on the project
For this research project, the simulation was programmed by the team at NTDC to replicate Coventry's roads in a 3D environment where drivers were asked to follow a set route for eight minutes. Drivers were faced with five events to handle including stopping at traffic lights, dealing with a pedestrian crossing the road and overtaking a lorry.
During each drive, the team monitored the participant under one of six different sound conditions, including urban traffic noise, soft or loud music or songs with or without lyrics. "The research found that participants exhibited more risky behaviours, such as driving faster while overtaking a bin lorry, in response to fast-tempo music. Drivers should therefore be cautious in their use of up-tempo music in urban settings and instead consider the use of music with a tempo range between 100 – 130 beats per minute (bpm). This will optimise their mental state when driving in stressful urban environments and will help them to stay safe on the road." William Payre.
So, is it time for you to change your playlist? The latest data from Spotify suggests so. Out of the top five most-streamed songs globally on Spotify in 2021, only one falls within this ideal tempo range.
| Stream rank globally on Spotify in 2021 | Song | Artist | Bpm (data from SongBPM) |
| --- | --- | --- | --- |
| #1 | Drivers Licence | Olivia Rodrigo | 144 bpm |
| #2 | MONTERO (Call Me By Your Name) | Lil Nas X | 179 bpm |
| #3 | Stay | The Kid LAROI (with Justin Bieber) | 170 bpm |
| #4 | Good 4 U | Olivia Rodrigo | 169 bpm |
| #5 | Levitating | Dua Lipa feat. DaBaby | 103 bpm |
Find out more about the National Transport Design Centre.