How Clearing and her migrant roots inspired CTPSR academic Sinead Ouillon to build a career that gives back to Coventry communities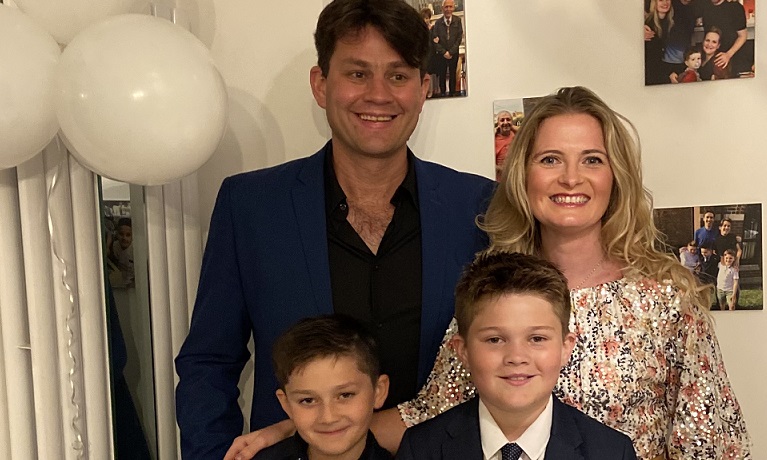 University news / Research news / Alumni news
---
Wednesday 17 August 2022
Press contact
---
Sinead Ouillon jokes that if she could go back in time to when she was about to enter Clearing, she'd tell her 18-year-old self to focus more on her studies than winning a World Irish Dancing medal.
But if she ignored her dancing dream, she might not have joined Coventry University, found the love of her life and built a social enterprise that is helping hundreds of migrants, refugees and asylum seekers to follow in her dad's footsteps to settle into the city.
For Sinead, the inspiration behind setting up FabLab, which is backed by the University's Centre for Trust, Peace and Social Relations (CTPSR) and Coventry City Council, comes from combining the skills from her dancing career, business degree and the difficulties her dad and his family faced when they moved from Ireland to Coventry in the 60's.
But it might have been a different story had it not been for Clearing.
I thought that I'd rather get a World Irish Dancing medal than work hard for my A levels. If I could go back in time, I'd have a word with myself!

I was nervous going through Clearing but the people I spoke to at Coventry put me at ease and as soon as I started my course, I knew this was the place I belonged. I wouldn't be in the position I am now running FabLab and in a position to explore research opportunities at CTPSR if I'd have taken the other path before Clearing – everything happens for a reason.

Sinead Ouillon
Sinead's mum taught Jean Butler and Colin Dunne, two former lead dancers from Irish dance show phenomenon Riverdance, how to dance.
The duo went on to create and star in their own show, Dancing on Dangerous Ground, which Sinead and her sister, Free Radio breakfast presenter Roisin McCourt, both danced in.
And Sinead feels her skills from dance have complimented her journey at Coventry University as she prepares to start a new role as Director for Research Development and Innovation at CTPSR in September.
She said: "To dance at international level like I did, you need to be disciplined. My sister and I used to get up at 5.30am to dance before school and I think there is something about the creativity and discipline I have from dancing that compliments how we work at Coventry University.
"They are two things I developed for dance but also to build my career."
Dancing gave her discipline, but Sinead credits her migrant background with giving her the work ethic to handle multiple projects and a desire to pursue an impactful research career.
Since opening in 2016, FabLab has helped thousands of people gain skills to boost their employability prospects and integrate into the community and her roles at CTPSR and FabLab have overlapped as she has worked on MiFriendly Cities, a project that focuses on the contribution and integration of refugee and migrant populations across Coventry, Birmingham and Wolverhampton.
I did not come from a background that set me up for university in a traditional sense, my parents didn't go to university but they ran a hotel business in Spon End and I learned through them how to run a business and the importance of hard work.

Coming from a migrant background, I realise how strong a work ethic they have because they have had to go through so much, uproot their lives and start from scratch. I know the importance of giving people a chance and opportunities and how much a difference having a UK qualification can make to their lives.

My dad and my family tell me stories of their journeys to England. My dad still has a strong Irish accent but other members of my family changed them to avoid bullying at school. He recalls how despite their diverse backgrounds and journeys the Irish and other migrants who moved to Coventry at the same time built connections and friendships.

Knowing those stories has helped me when I have had the privilege to work with refugees, asylum seekers and migrants.
Sinead has Coventry University Provost Ian Dunn to thank for meeting her husband, Frenchman Cyril, on her Business Technology degree.
And Sinead, who was born and raised in Coventry, is proud to be bringing up her two sons in a city that has embraced its diversity.
She said: "Ian Dunn went to Toulon in France and my now-husband Cyril said he told the students about an opportunity to come and study in Coventry.
"Cyril thought if all the lecturers are like that it will be quite cool and so he gave it a go.
"Now we have two kids and we are a typical Erasmus (exchange scheme) marriage.
"For me and for my sons growing up here you know a lot about different cultures. I have an 11 and 13-year-old who have eaten food from all around the world before they hit their teen years just because of how diverse our city is. There are so many different languages spoken in the city, the migration is more diverse than it was when my dad moved here, and we have more long-standing lived experiences of migration in the city."
Sinead's advice to anyone who is entering Clearing this summer is simple.
My advice to anyone in Clearing is just do you, don't worry about what your friends are doing or where they are going. Just be open to all the opportunities and put yourself out there, make the call or go for the interview, stay home, or move away. You are in Clearing but you have the power and control of your next step.
Find out more about joining Coventry University through Clearing.