Graduate Abi receives engineering industry honour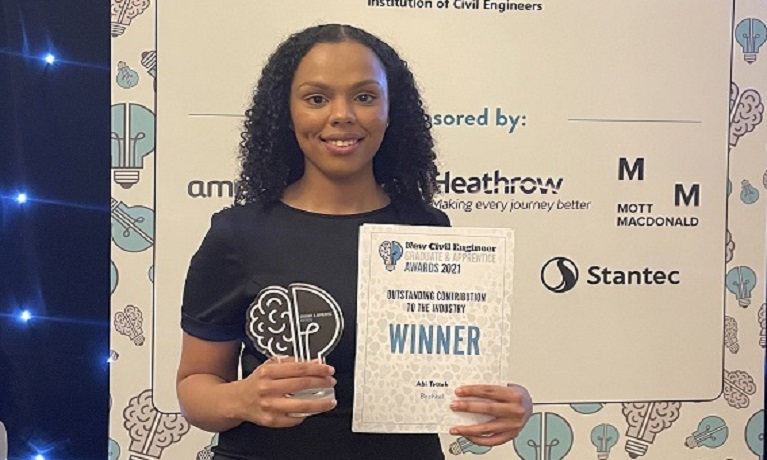 ---
Wednesday 12 January 2022
Press contact
---
A Coventry University graduate has been praised for her work promoting diversity in civil engineering with the awarding of a top industry accolade.
Abi Tetteh, who graduated with a Master's in Civil Engineering in 2019, was presented with the Outstanding Contribution to the Industry Award at the recent NCE Graduate and Apprentice Awards.
She works for the major international engineering firm Bechtel, currently working as a Civil Engineer on phase 2b of the rollout of HS2.
Alongside her role on HS2, Abi, 25, is the Vice President of the Early Career Committee within her company, supporting the professional development of graduates and apprentices. She has also led on and facilitated new initiatives aimed at improving the representation of women and black and ethnic minorities within her company and the wider industry.
It is for this work, much of which Abi has done on a voluntary basis, that judges at the Institute of Civil Engineering (ICE) decided to present her with the award.
It is not the first time Abi's talent and dedication has been recognised - in 2019 she also won the Patrick Lister Prize from Coventry University, honouring the Best Female Engineer in the Faculty of Engineering, Environment and Computing that year.
Initially one of my colleagues suggested I apply for the award. The application and judging panel focused heavily on my thoughts and contribution towards net zero and my influence to date on the industry's legacy, both key challenges faced by the civil engineering industry.

I didn't expect to win, I was at the awards ceremony and when they called my name I was pleasantly surprised. It was really nice to be recognised for my achievements to help shape the civil engineering industry by both the ICE President and the editor of the NCE, it was an amazing feeling.

My work on improving representation is something I'm extremely passionate about because being in the industry myself I know what it's like to be a minority in terms of gender and in terms of race and thus the importance of overcoming these barriers to ensure we can create an environment where all can succeed and thrive, delivering the best engineering solutions to complex challenges.

Coventry University has played a big part in my life, it's shaped me as an engineer, it gave me the skillset I needed to go into the industry. I did three years undergrad and then my Master's, the lecturers were really passionate about giving us the skills to succeed, it was a challenging course which kept us stimulated and made us resilient.

Abi Tetteh
Coventry University's Faculty of Engineering, Environment and Computing enjoys a global reputation for business-focused research and teaching and its laboratories and workshops are equipped to commercial and industrial standards.
To learn more visit Coventry University's Civil Engineering Master's Course page.