Coventry University wins prestigious award for game-based learning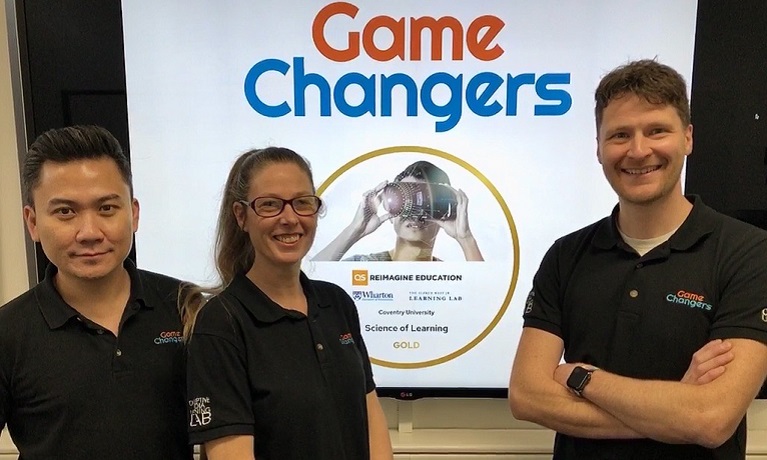 ---
Thursday 27 January 2022
Press contact
---
Exploring science through hopscotch and language through Jenga are just some of the inventive ideas that have earned a Coventry University game-based learning initiative a prestigious award.
Led by Professor of Game Science Sylvester Arnab from the Centre for Postdigital Cultures (CPC), the initiative has won the Science of Learning award in the 2021 QS Reimagine Education Awards.
Also known as the 'Oscars of Education', the awards are the largest in the world for teaching and learning, recognising cutting edge innovators in the world of educational technology.
Professor Arnab's research project - GameChangers: Educators as agents of change through playful pedagogy - won the gold prize ahead of more than 1,100 applicants.
The project focuses on playful and game-based learning experiences that educators can co-create, adopt and adapt in their teaching practices. Play and gameplay in an educational context enables active, creative and exploratory practices for constructing, applying, and reflecting on knowledge, skills and values.
Some of the games that have been co-created by teachers using the GameChangers approach are:
Science hopscotch: The central idea of the game is to learn about the Cycle of Life. Students take turns on the hopscotch mat and for each box they land on, they are required to answer an open-ended question about the topic. They are only allowed to move to the next box if they can answer the question assigned to them.
Jamming with Jenga: Every Jenga stick is labelled with a word or syllable. Students are required to put together a sentence using the words or syllables they have picked out from the tower. The challenge increases as the number of sticks collected increases. Students learn to be creative in constructing meaningful sentences.
The GameChangers research team, co-led by CPC and Coventry University's Disruptive Media Learning Lab, worked on a number of initiatives involving educators and learners in marginalised communities around the world, running programmes in Malaysia, Indonesia and Vietnam that are funded under the Newton Fund and the Global Challenges Research Fund.
Professor Arnab and the GameChangers team presented the project at the Reimagine Education Conference in December 2021, which was attended by more than 2,000 industry leaders, investors and innovators in the education space.
We are delighted to win the gold prize for the GameChangers initiative, which focuses on empowering and upskilling educators in the design and implementation of playful and game-based learning activities and resources for engaging learners in meaningful educational experiences. Winning the gold prize is a recognition of our contributions to research, development, and practice, and I would like to acknowledge the team, colleagues, and our national and international collaborators for their passion, creativity, and imagination.
The GameChangers initiative continues to impact teaching and learning since its inception in 2015 and exemplifies Coventry University's practice of investing in novel approaches and technologies to support innovative teaching and learning models.
Find out more
Learn more about the GameChangers project and the Reimagine Education Awards.