Coventry University to help city's creative sector demonstrate the potential of 5G technology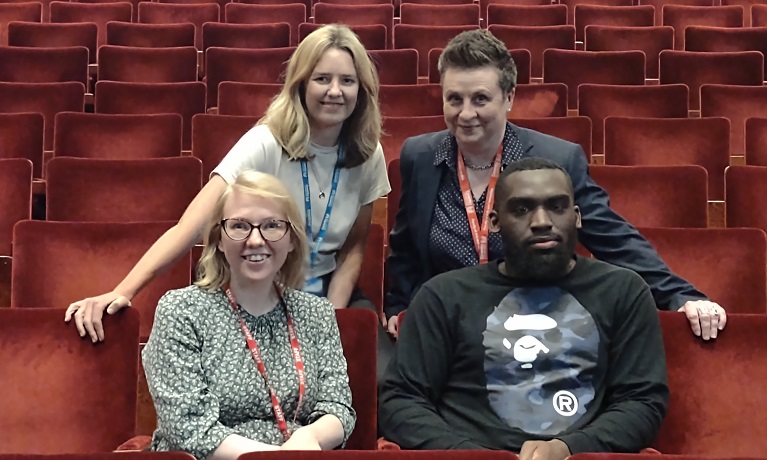 University news / Research news
---
Monday 25 July 2022
Press contact
---
Coventry's creative sector will be given a digital boost by experts at Coventry University as part of a special project to help organisations benefit from advances in 5G technology.
Supported by a £68,500 grant from Arts Council England, Coventry University has teamed up with some of the city's top cultural attractions to explore how 5G can create new experiences for audiences.
Representatives from each of the organisations taking part will be given support to develop their ideas over a six-month period, starting with a 5G bootcamp from Coventry's Institute of Coding, followed by a series of lightning talks with international technology experts from the creative industries.
5G can support new immersive technologies and Coventry University will provide the facilities to test new prototypes using augmented reality (AR), virtual reality (VR) and extended reality (XR) to augment the organisations' artistic practice.
One of the big advantages of 5G technology is there is no latency period, users don't get the spinning wheel or buffering. For organisations working in the creative industries that typically have a high volume of dense content, this technology is fantastic and it enables them to do all sorts of new things, very quickly.

Different ways of doing online ticketing, live streaming and mass interaction at events can all be made possible for example. You can use this technology to learn about the history of objects in a museum or make podcasts available to people based on their location using GPS.

5G also enables us to explore new ways of using augmented reality and virtual reality.

We're particularly pleased to be working with such major arts organisations in the region on this and being able to provide these organisations with bursaries to develop their ideas would not have been possible without the support we have received from Arts Council England.

Peta Murphy, Associate Head of School (Enterprise and Innovation) at Coventry University's School of Humanities, and co-project manager
Those who have signed up to the 5G Creative Explorer Project are: The Belgrade Theatre, The Herbert Art Gallery and Museum, Talking Birds, MotoFest, Shoot Festival, MotionHouse, Imagineer and Open Theatre.
In September the prototypes will be showcased at a public event in Coventry.
It's great to see Coventry University working at the forefront of new technological developments within the creative industries – and exploring the power of 5G as it connects people around the globe, breaks down barriers and brings exciting creative experiences to new audiences.

We are incredibly proud of what was achieved during Coventry's year as UK City of Culture and are pleased to be supporting projects like this through our National Lottery project grants as part of the lasting legacy for the city and its people.

Peter Knott, Area Director for Arts Council England
We are delighted to be taking part in this project. It will support us in our ambitions to look at future forms of both making and distributing theatre, as we take the Belgrade into a new era."

Laura Elliot, CEO of Belgrade Theatre and Creative Director, Corey Campbell
Coventry University has embraced 5G technology, becoming the home of the UK's first 'Standalone' 5G network in 2020, thanks to a collaboration with Vodafone.
Read more about Vodafone's collaboration with Coventry University.