Coventry graduate's amazing creations praised at fashion week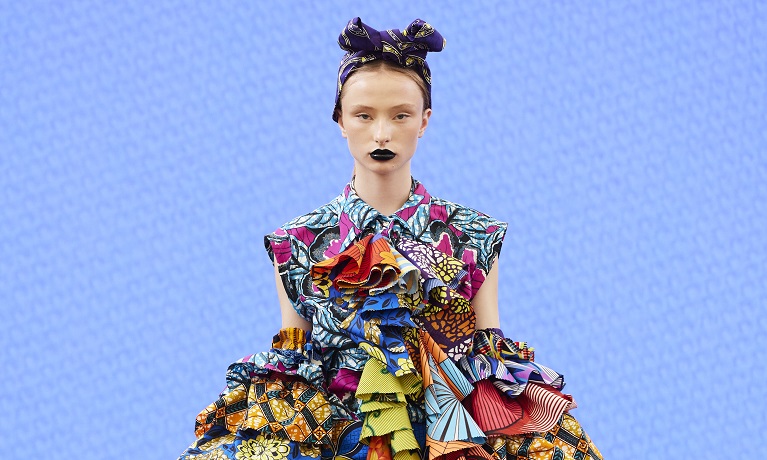 ---
Thursday 28 July 2022
Press contact
---
A Coventry graduate is gaining attention in the highly competitive world of fashion after wowing judges at Graduate Fashion Week with her incredible outfits.
Hayleigh Boadi, 20, celebrated her Ghanaian heritage with a series of designs using Kente, a traditional African fabric.
Only a few graduates across the UK are shortlisted to display their designs at Graduate Fashion Week and Hayleigh's creations proved so popular that she was awarded the prestigious GFW Collective Catwalk Award.
Being shortlisted to take part at Graduate Fashion Week was amazing, very few people are chosen so it was a huge honour. I only found out that I had won the GFW Collective Catwalk Award on the way back home, it was just unbelievable.

I've just graduated from Coventry with a degree in Fashion, it's an industry I've always wanted to be involved in ever since I was seven years old. I studied textiles at school and at A-Level so I think I was always going to go onto fashion at university. It's a dream for me to be able to show my work at Graduate Fashion Week.

My collection, entitled The Heirloom, used Kente, a fabric considered very valuable in Africa, something that's passed down within families because it is so important. I built on this idea along the theme of royalty, so the outfits use a lot of gold and yellow colours, they've got a lot of volume too.

My mum let me use some of her Kente in the show, some of the smaller items are actually made from her fabric. She's very proud of my work, she was a bit nervous about letting me use her Kente to begin with, but when she saw it she was touched by what I'd created. I think it's quite unusual to have Kente in a fashion show, it's not something I've ever seen used in that context before.

It's quite a surreal experience to see your work on display in front of an audience but I got lots of complimentary comments afterwards. The show has drawn a bit of attention to my work which is fantastic.

Coventry University has helped me so much, I had great support during my course and they really push you to develop your designs. It's hard work but it really makes a difference.

Hayleigh Boadi
Hayleigh says she is now hoping to secure an internship or job within the fashion industry.
Graduate Fashion Week, organised by the Graduate Fashion Foundation, is the largest showcase of BA fashion in the world, providing the opportunity for graduates to show their talent across 26 different fashion disciplines.
We are so proud of Hayleigh and her collection- it really is fantastic to see Hayleigh celebrate her culture and heritage on the catwalk at Graduate Fashion Week.

We were able to present the work of a number of graduating students at the event this year, with a great response- it was great to see all of their individual stories and specialisms represented on such an amazing platform.

Rebecca Ryder-Caddy, Assistant Professor at Coventry University's Faculty of Arts and Humanities
You can see more of Hayleigh's work at @boadiofficial on Instagram.
To find out more about Coventry University's Fashion BA (Hons) course.