Coventry University agrees kit purchase from Tektronix – a world leader in electronic test and measurement equipment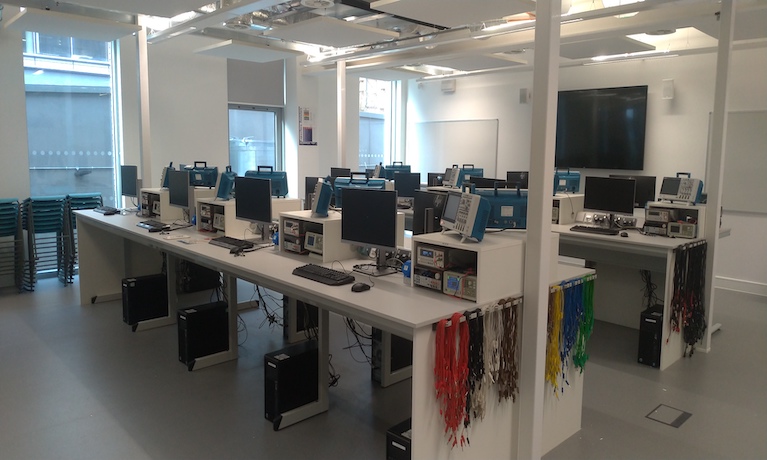 University news / Business news
---
Tuesday 30 March 2021
Press contact
---
Teaching and learning facilities in Coventry University's Beatrice Shilling building have been transformed thanks to the acquisition of new cutting-edge equipment and resources.
Tektronix, a world-leader in electronic test and measurement equipment has provided the university's new build with 53 high-tech fully-equipped workstations, taking the Faculty of Environment, Engineering and Computing's facilities to the next level.
The collaboration between Coventry University and Tektronix is an integral part of Coventry University's continuing drive to produce job-ready graduates with industry-standard experience and knowledge.
The new laboratory as part of the recently-developed Beatrice Shilling building is designed to deliver cutting-edge, research-led and industry-driven teaching and learning to thousands of students every year.
As a major player in the electronic test and measurement equipment industry, Tektronix will strive to support Coventry University with its objective of creating world-class teaching spaces and facilities.
The exciting range of software and equipment Tektronix, Keithley and SJ Electronics have provided us with represents our commitment to developing truly excellent teaching and learning spaces for our students and staff to take advantage of.

I have no doubt that teaming up with Tektronix to kit out our facilities with such high-quality equipment will help us take the faculty's offering to a whole new level.

Nik Tsanov, Development Officer (Electronics) at Coventry University
The equipment installed and provided by Tektronix, and by SJ Electronics, one of the UK's leading distributors of educational test equipment, includes analysis software, digital storage oscilloscopes, arbitrary/function generators and 5.5 digit digital multimeters.
All of these features have been built into the 53 bespoke seated workstations, which will allow both undergraduate and postgraduate students studying courses such as Computer Hardware and Software Engineering Beng and Electrical and Electronic Engineering Beng to perform an extensive range of practical, electronics and physics experiments.
We are very excited at the opportunity to equip the main teaching laboratories in one of the UK's top electronic engineering universities with Tektronix and Keithley software and equipment.

For us it is vital to provide solutions to support engineering education in the 'new normal world'. For this purpose, we are providing not only the instruments but also our new TekScope™ Software solution which brings the power of the oscilloscope analysis environment to the PC. Coventry University students will have the flexibility to perform analysis tasks in the lab and continue their work outside of the lab. This will prepare them for industry-based environments whilst enhancing collaboration and sharing with other students; key areas for facilitating a great learning experience.

Maria Heriz, Vice President (EMEA Commercial Operations) at Tektronix