Coventry University students team up to maximise enjoyment of uni life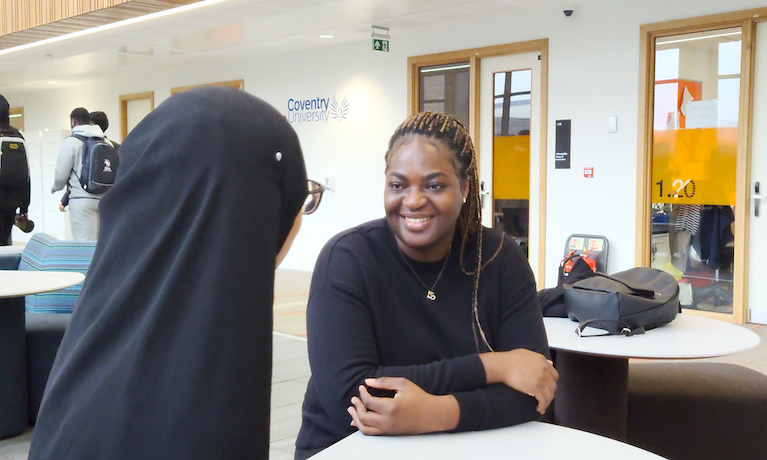 University news / Student news
---
Wednesday 17 November 2021
Press contact
---
Coventry University students are teaming up to help make the transition into higher education easier for first-year students.
The move to university can be daunting for some students, especially those who may be the first person in their family to go to university or international students adapting to a new country. Students who missed out on much of their final year at school because of the pandemic may also find the shift into higher education a significant change.
Second and third-year students are signing up to the university's peer mentoring programme to help fellow students get the most out of their time at Coventry University. Many of them had mentors during their first year at university.
The programme pairs mentees with mentors, allowing students to talk to each other about anything from academic studies and assignments to nightlife and sports societies. Typically, existing students mentor new first-year students with the aim of answering questions, providing advice and offering a friendly welcome.
Starting out with university life can be really daunting. I'm really glad I got myself a mentor when I was in first year as it really helped me to realise how many people and programmes the university had in place to support students and I always knew I had someone I could turn to if I needed anything.

Now I'm in my second year, I want to share that same advice and reassurance with new students to help put them at ease and make their start to university life as smooth as possible.

Maseeha Amin, student mentor at Coventry University
Whether on-campus or online, students in the mentoring scheme can use the Vygo app to communicate and collaborate. It allows group discussion as well as one-to-one chats.
Sophia Baffoe also decided to become a mentor in her second year at university after being mentored when she joined. She says using the app is a useful and easy way for mentees and mentors to team up.
The Vygo app is really helpful, both to mentors and mentees. You can privately and safely message your mentor and open group chats as well as doing a short quiz to create a profile based on your course and personality that helps to pair you up with a mentor.

Getting involved with this programme has been a great experience for me and I'd definitely recommend that anyone who is thinking about becoming a mentee or a mentor should come on board.

Sophia Baffoe, student mentor at Coventry University
We've been delighted to welcome our students back onto campus and into the classroom this September, and whilst it's been really exciting to return to face-to-face teaching and learning, we recognise the importance of ensuring our students' mental and pastoral wellbeing as they deal with change. In addition to the other wellbeing support we offer, the peer mentoring programme and our work with Vygo is another great way of getting students talking, making sure they're collaborating and communicating with one another and most importantly of all helping to ensure their university experience is as enjoyable and fulfilling as possible.

Ian Dunn, Coventry University provost
More information on Coventry University's peer mentoring programme.