Student nurse aiming to follow in the footsteps of her heroes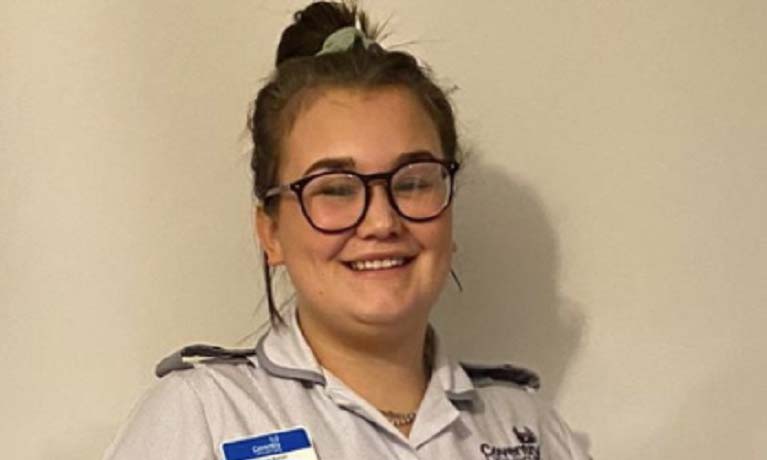 University news / CU Coventry
---
Wednesday 01 September 2021
Press contact
---
A student nurse has praised the 'superhero' nurses she worked alongside at University Hospitals Coventry and Warwickshire (UHCW) NHS Trust during the COVID-19 pandemic and says she wants to become as skilled as them.
Coventry University student Olivia Aston was inspired to pursue a career in nursing by her grandmother, who was a nurse at Birmingham Children's Hospital, and the NHS professionals who cared for her after she was diagnosed with type one diabetes at the age of 11.
Olivia started to turn that dream into reality through Clearing in 2019 when she signed up for an Applied Biosciences foundation course at CU Coventry campus.
That one-year course supported the 20-year-old's application to secure a place on the Children and Young People's Nursing BSc (Hons) course at Coventry University in September 2020.
Now after placements at UHCW and in the community, Olivia is eager to follow in the footsteps of those who inspired her to start the journey and her new heroes – the frontline workers who have risked their lives during the COVID-19 pandemic.
Working on the wards in this pandemic I felt so much part of the team, everyone is in it together, following all of the protocols to keep our patients and everyone around us safe.

I loved my first placement at UHCW. It was adolescent based so I was with children aged 11-17. I learned a lot about mental health nursing, general medications and illnesses.

I was so impressed and inspired by the quality of the nurses I was working alongside in the hospital and in the community.

They are so skilled, and I've learned so much from them all.

Watching and working with them has definitely cemented that this is what I want to do as a career. I want to help.

Olivia Aston
Liv says her CU Coventry foundation course prepared her for the nursing degree and she urged others to look into the route.
The foundation route was a great step for me. The modules like anatomy and physiology and health and disease really helped set me up for my nursing degree.

The advice I would give to anyone going through Clearing is that everything happens for a reason.

I have made the best friends through CU Coventry and Coventry University, I've got such good family support and I think if you need to take an extra stepping stone to get where you need to be, then that is the best thing to do, because like me, you will get to where you want to be.

Olivia Aston
If you are interested in a career in nursing but do not know where to start, find out how CU Coventry can help through access and foundation courses here.