Clearing phone call propels Joyce to career in automotive safety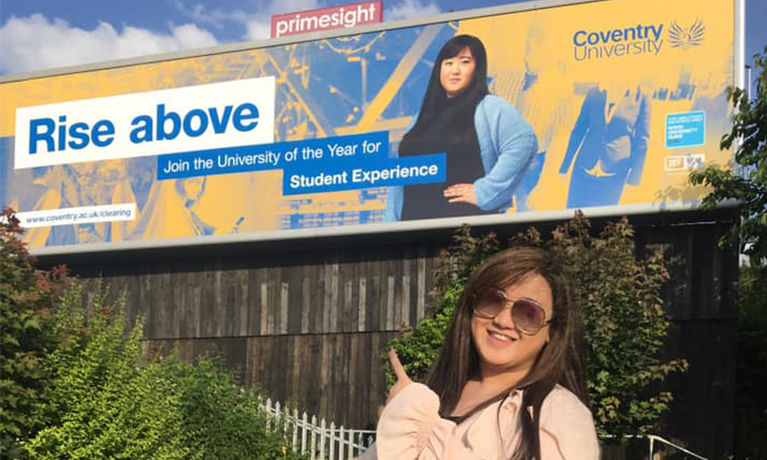 ---
Friday 13 August 2021
Press contact
---
Seven years ago, one phone call to Coventry University helped Joyce Tang kick-start her engineering career - now she helps car companies keep people safe.
Joyce joined the Mechanical Engineering MEng BEng course through Clearing in 2014 and after graduating in 2019 she's now an Applications Engineer at Altair.
The 25-year-old chose the degree as she felt it combined her passion for mathematics and physics, but it was her time at Coventry University that set her on the path to a career in automotive safety.
My decision to go into engineering came from my interest in mathematics and physics at school. I knew that I could explore and expand my knowledge of both subjects through the field of engineering.

As part of my degree I researched how you can develop different safety systems across the world to help society and people and I felt I found my passion.

During my placement year at Altair I discovered I could pursue a career in that area.

Thankfully for me the university has a really good reputation for teaching automotive safety and simulation and now here I am, working for Altair.

We provide software to all of the different Original Equipment Manufacturers like Jaguar Land Rover, Aston Martin, Bentley and more.

They all use our software because before they do any practical testing, they need to simulate it.

My job is to provide support to the people using the software, train them up and show them the latest tools they need to use.

Joyce Tang
Joyce moved to the Midlands from Brighton and didn't just secure a job in her chosen field after graduating - she also made friends for life.
I really liked Coventry as a student city.

It had everything you needed in a nice compact city, even though it is a city university it feels like a massive campus. It was also a great location to study engineering due to the industry opportunities in the area.

My advice to anyone going through Clearing today is to go with the subject that you really enjoy studying and a subject you want to study.

I think if I went to another university, I would not have enjoyed it as much.

I really liked the balance between theoretical learning and practical learning, and I felt the university prepared me for the real world of work.

I've met some of my best friends at Coventry University and when you have people around you with similar interests, studying a subject you all like, you can end up finding some really good friends.

Joyce Tang
Find out more about Clearing.