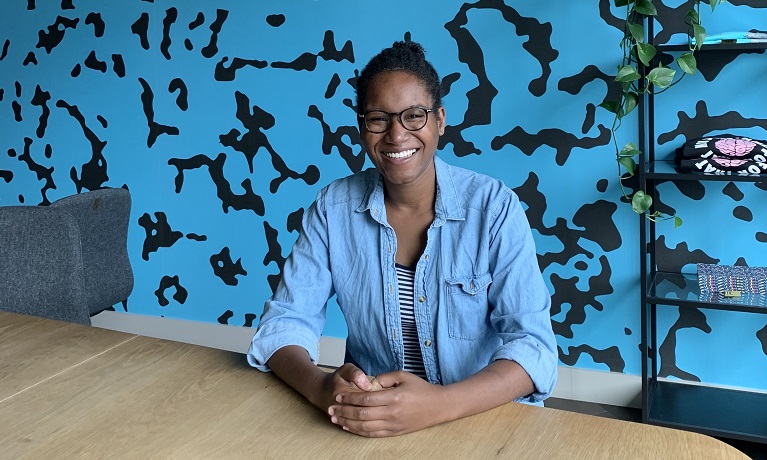 ---
Monday 09 August 2021
Press contact
---
A former Coventry University student who joined through Clearing has just been named as one to watch on PRWeek's 30 under 30 prestigious list.
Naomi MG Smith says joining Coventry University through Clearing helped her find the voice that has allowed her to dream big and become a leading light in the Public Relations industry.
Naomi studied Business Management BA Hons, with an industrial placement year, from 2012-2016 and secured a graduate role as a Human Resources Business Partner in Human Capital Management at Goldman Sachs.
Four years at Coventry had given the 29-year-old the tools to succeed and she transitioned into the PR industry in 2018.
She is now an Account Executive at a leading public sector communications agency, Westco Communications, and keen to reassure university applicants that Clearing can be a platform for a successful career.
Coventry University offered me a place through Clearing and it turned out to be the best four years of my life.

I put that down to the teaching quality at the time, the industrial placement in the third year of my degree, international opportunities and throwing myself into extra-curricular activities through Coventry University Students' Union (CUSU).

My lecturers and the university modules prepared me for the real world of work but from my perspective learning on the job on placement at Stellantis, formerly Groupe PSA, was a big game changer.

CUSU and the enrichment activities helped build who I am today. I worked my way up from Course Representative to Faculty Chair representing 5000 Business and Law undergraduate and postgraduate students. That experience and those activities enabled me to find my voice because I was quite shy when I began university.

When I was at Coventry I helped out with Clearing and I spoke to people who were in the same position as I had been, helping to reassure them that it was not the end of the world.

My advice would be to make the most out of your university experience, aim high when it comes to academic achievement, get involved in the Students' Union to build your skills and gain work experience throughout your degree.

Naomi MG Smith
Naomi is an Accredited Practitioner with the Chartered Institute of Public Relations (CIPR) and the youngest member of the CIPR Council.
Her PRWeek recognition is due to her work for Westco, including a COVID-19 Local Authority vaccine campaign that helped reduce disinformation and encourage uptake in vulnerable communities.
A diversity and inclusion advisory role within Westminster City Council, CIPR Council work and her former role as Vice Chair of the CIPR Knowledge Panel also factored.
According to the CIPR State of Profession there is only nine percent BAME (Black, Asian and Minority Ethnic) representation in the PR industry and I would just like people who look like me to see people like me and be encouraged to join the industry.

Naomi MG Smith
Find out more about Clearing through Coventry University's Clearing Hub.