From Coventry University to the Formula One elite: James Dornor's story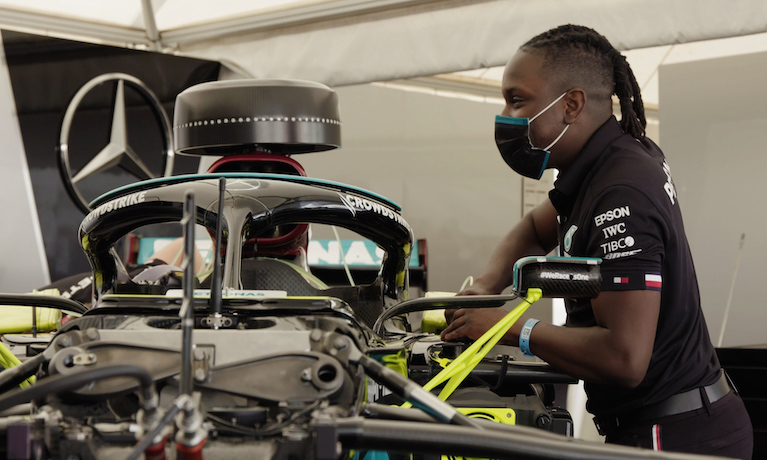 University news / Business news / Alumni news
---
Friday 29 October 2021
Press contact
---
Coventry University graduate James Dornor has broken into the highly-competitive Formula One industry, and now works on cars driven by Lewis Hamilton and Valtteri Bottas.
But the 33-year-old's journey hasn't been an easy one. At the age of just six years old, James lost his father and had to grow up quickly to support his three older siblings and his mother, who juggled several jobs.
Fastforward to 2021 and he is now looking after some of the most prestigious cars in the Formula One industry.
After previous spells working for McLaren Racing Ltd and Haas Formula One Team, James is now an electronics support engineer for the Mercedes-AMG Petronas F1 team. His role involves maintaining and servicing Formula One cars that have entered retirement, keeping them in pristine condition for exhibitions and demos.
He also monitors the cars, with a sharp focus on the chassis sensors such as hydraulics, clutch, fuel and gearbox whilst they're on the track.
After a difficult road to a highly sought-after career, James is now keen to continue pushing on, but he recognises the importance of never forgetting where he came from.
I do have a lot of pride in getting to where I am today. Working on the chassis trackside again is probably the ultimate dream, and I'm not so far away from that right now, so I guess you could say I'm living the dream so to speak.

Reaching where I am today means I can offer a support network to my family, just as we did for each other when I was growing up. I'll never forget where I came from and how hard we worked as a family. I always try to give back to those in less fortunate positions where I can, so I've previously gone into schools and even back to university in the past to try to help others with their goals and career aspirations.

James Dornor, Coventry University graduate and electronics support engineer for Mercedes-AMG Petronas F1 team
A career in Formula One has been a dream for James since 2008, when he went to his first motor-show, before attending a free Formula One event in 2009, igniting a passion for life.
James graduated from Coventry University in 2011, after completing his degree in Automotive Engineering as well as a placement with BMW Oxford Mini Plant. He says the support he received at university was crucial to helping him reach where he is today.
My lecturers and peers were all really supportive, and given how tough the course was at times, that helping hand was really crucial. I spent a lot of time with my class-mates in the maths support centre, where staff would answer any questions we had after lectures and that was really helpful.

The support we received replicated the support I now receive from professional peers and colleagues at work. Not only that, but the university also helped me secure opportunities to gain experience in the automotive industry, which really helped prepare me for work in the F1 industry.
Find out more about Coventry University's Faculty of Engineering, Environment and Computing.