Coventry University designers help out Santa this Christmas with super-sleigh concept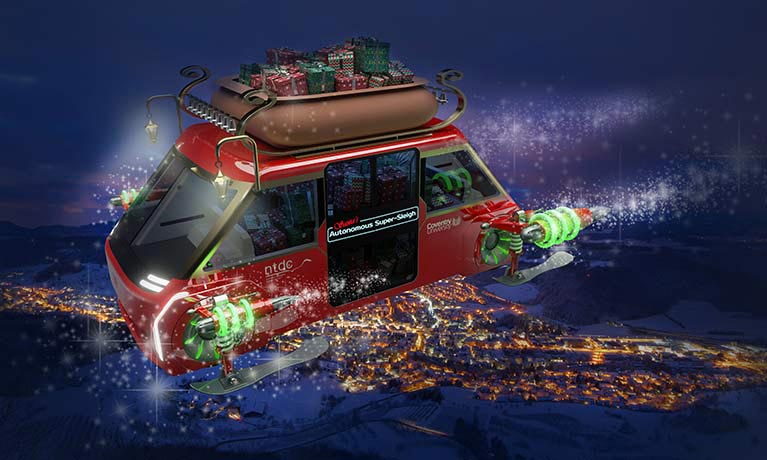 University news / Research news
---
Tuesday 21 December 2021
Press contact
---
Working from home may sound like an impossible task for Santa this Christmas but researchers at Coventry University have come up with a great solution to keep St Nic in his workshop this year.
With Plan B guidance in force asking people to work from home if they can, Coventry University's Centre for Future Transport and Cities was quick to look at the problem.
Adapting their concept for an autonomous pandemic-proof car of the future, the team have come up with the idea for a self-driving autonomous super-sleigh – ensuring the man in red can fulfil all his present-giving commitments as normal.
With no driver and no reindeer, the sleigh could travel across the globe delivering presents - all in a COVID secure way.
The pandemic-proof car concept, unveiled last year, featured UV lights to clean between journeys, a configurable vehicle interior that provides occupants with their own personal space and touch-free doors to open automatically.
While designers may be having a bit of fun with the super-sleigh, it highlights some of the benefits autonomous vehicles may bring when it comes to reducing contact with others in a pandemic.
As Father Christmas is following Plan B guidance to work from home this year, we are helping him out with a self-driving autonomous super-sleigh; so there's no need to worry – all the presents will be delivered on time this Christmas.

Autonomous transport is not just for Christmas - we know that autonomous vehicles will have a huge impact in the future, with considerable positive societal and environmental implications.

Here at Coventry University's National Transport Design Centre we are working to ensure that such future transport is designed to meet everyone's needs, by putting users at the heart of the design process.

Paul Herriotts, Professor of Transport Design at Coventry University
One or two issues may need to be sorted out before Santa can relax on Christmas Eve, with the technology needed for a flying sleigh still a little way away - but every good idea faces a few challenges.
The prospect of driverless cars becoming the new norm is something the Centre for Future Transport is making great progress on, with safety and sustainability at the forefront of research.
Coventry University is a leader in this field, drawing on the industrial experience of academics to explore areas such as functional safety, propulsion systems and vehicle dynamics as part of its Connected Autonomous Vehicles Engineering MSc.
For more information visit Coventry University's Centre for Future Transport and Cities page or visit the pandemic-proof car page to find out more about this project.