Coventry University giving students with lived experience of disability chance to shape future of accessible transport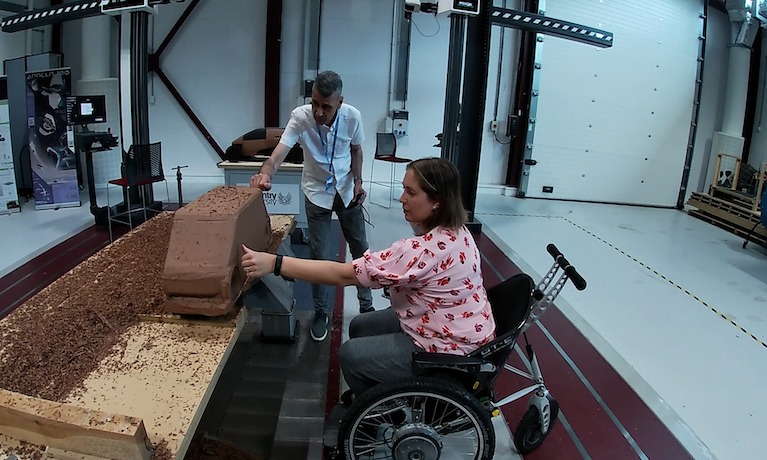 University news / Student news / Research news
---
Tuesday 28 September 2021
Press contact
---
Coventry University is recruiting people with lived experience of disability to undertake PhD studies and research to help make transport more accessible in the future.
The university is collaborating with national disability charity Motability to recruit and sponsor a number of doctoral candidates to undertake the research at the university's National Transport Design Centre (NTDC).
The aim of the programme is to combine expertise, cutting-edge research facilities and lived experience of disabilities to help make transport more accessible for people with a variety of mobility issues.
The collaboration builds on Coventry University's strong tradition of design transport teaching and Motability's objective to support and develop innovative solutions to meet the evolving transportation needs of disabled people.
Research has shown poor transport design can cause reduced economic opportunities, social exclusion, a reduced quality of life, and other negative impacts for disabled people, who often lack a voice in key planning and decision-making processes.
Kay Atkin is the first PhD student to join the programme at Coventry University. She has a long-standing disability which resulted in the need for an adapted car. In addition last year, Kay was hospitalised by COVID-19 and now uses a wheelchair. This has given her further insight into the difficulties faced when accessing public transport and the barriers to simple everyday tasks.
My end goal here is to help contribute towards the development of more accessible transport for those who need it most. I think it's particularly important to ensure public transport is adapted for those who need to use it independently but currently can't due to issues with accessibility and mobility.

Ideally I want to help produce a solution that could realistically be rolled out within society and make a real and significant difference to people's lives.
The fully-funded studentships aim to address the issue by giving disabled people, and those who have direct and frequent interactions with them, the opportunity to train in the specialist area of transport design accessibility research, so they can bring both technical knowledge and lived experience to future transport policy and practice.
It's crucially important that those who face daily challenges with mobility have the independence to be able to use public and private transport. We're hoping to bring in more PhD students who, like Kay, have real-life experience of how challenging public transport can be for people with disabilities to use. We want to combine that real-world knowledge with unique research opportunities and our cutting-edge facilities to make a really profound difference to accessible transport.