Coventry Creates returns with 12 partnerships between academics and Coventry artists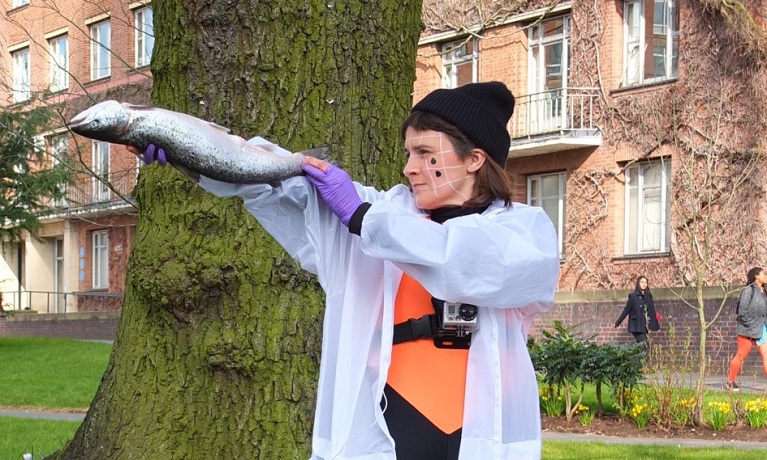 ---
Tuesday 17 August 2021
Press contact
---
Loneliness and solitude, palliative care during COVID-19 and how the mispronunciation of people's names can affect their education are among the topics being brought into the public eye in the second instalment of the Coventry Creates project.
The University of Warwick and Coventry University have announced the successful partnerships that have gained funding to participate in Coventry Creates 2021. The 12 collaborations between academics and Coventry artists are being funded by Arts Council England and will culminate in a digital exhibition in December and a physical exhibition at the Resonate Festival on University of Warwick Campus in April 2022.
We were thrilled to receive Arts Council England funding for this programme of work following the success of the 2020 projects. The quality of applications for the second round of Coventry Creates shows the strength and breadth of the research going on in the Coventry's two universities, as well as the thriving artistic sector we have. Partnering up practitioners from these two sectors will again produce new and thought-provoking work which we hope will help us to access seldom-heard voices and reach new audiences. The final 12 projects were chosen as they are relevant to Coventry's people and communities and will contribute to the knowledge and evolution of the city as we continue through our year as City of Culture."

Professor Jackie Hodgson, University of Warwick Deputy Pro-Vice-Chancellor for Research
The support of Arts Council England has enabled a second edition of Coventry Creates, which began in the midst of the COVID-19 pandemic and UK-wide lockdown. The creative industry sector was severely impacted by the pandemic, and the two universities responded by releasing commissions specifically for Warwickshire-based artists to create new artworks in collaboration with researchers. The result was a dynamic digital exhibition that profiles the research and presents an innovative, artistic response. It was so successful that the universities wanted to extend the programme, giving more artists opportunities to work with contemporary research, and reaching new audiences through an exciting digital platform.We are looking forward to seeing the results of the 12 commissions, we expect some extraordinary digital experiences, and to see the researchers work in a new environment.

Professor Neil Forbes, Director, Creative Cultures at Coventry University
The funded works are:
Solitude: Historian, Dr Naomi Pullin from the University of Warwick will work with local photographer and filmmaker Paul Daly, on the representation of solitude.
SPACEX: Led by Professor Mel Jordan (Centre for Postdigital Cultures, Coventry University), SPACEX explores how art, design and architecture can be used to help combat issues faced by cities, and enable empathetic and inclusive ways of living together. Professor Jordon will collaborate with Coventry artist Duncan Whitley who works with experimental film-making and sound, synthesising cinema, documentary and spatial sound art.
The Lost Museums: Dr Bethany Rex from the Centre for Cultural and Media Policy Studies at Warwick will work with local poet John Bernard to create an artistic response to the research on museum closure and explore how public museums are changing.
The UK Vegetable Gene Bank: Geneticist, Dr Charlotte Allender, will be working with local poet, freelance writer and former Warwick academic George Ttoouli to create an artistic response to UKVG's research into preserving the genetic lineage of some of our best loved food plants.
Humans not Heroes: Dr Sally Pezaro (School of Nursing, Midwifery and Health and Research Centre for Arts, Memory and Communities at Coventry University) and Kerry Wykes (Emergency Nurse, Researcher and Lecturer at Coventry University) will build on their original Coventry Creates project Boats on an Ocean and collaborate again with China Plate Theatre to provide a space for healthcare workers to reflect on their experiences of working through Covid-19. This time the project, working with healthcare workers, will produce a script for an audio play.
The impact of COVID on care homes: Dr John MacArtney from Warwick Medical School, is working with hospices in Coventry and across the West Midlands to learn how the pandemic has affected those with life-limiting conditions, and those that care for them. Local artist Emily Warner will produce digital artworks responding to the research.
Care, Carers and Care Giving: Research by Professor Shirin Rai, Dr Jayanthi Lingham and Dr Shahnaz Akhter from Warwick's Department of Politics and International Studies, will work with EGO, a local community-based theatre group to produce an artistic output representing aspects of their research into the issues of care and caring faced by Black, Asian and Minority Ethnic Families and Communities in Coventry and Leicester during the pandemic.
Our Words: Dr Kevin Broughton from Coventry's Centre for Business in Society undertook research into the effect of lockdown on the creative freelance sector. He will collaborate with the Yikki Studio, a Coventry-based arts studio that focuses on how cultural exchange can create positive perceptions, and deepen understandings and trust between people from different cultures. The project will focus on the research interviews with creative freelancers from Coventry with the aim of bringing their own words into the public domain.
Say My Name: Dr Jane Bryan from the School of Law, University of Warwick is exploring whether a lack of familiarity with the pronunciation and spellings of people's names creates barriers to teaching and learning. She will work with local poet Verity Pabla, singer-songwriter and founder of the Coventry-based music production company 'I'm Not A Machine', to produce a spoken word piece emphasising the importance of respect for names and identities.
Data has a better idea: Dr Kevin Walker from the Centre for Postdigital Cultures at Coventry University explores how, in addition to a post-truth age, we're also entering a post-human age as AI takes on greater autonomy - increasingly serves its own interests. He will work with artist Edie Jo Murray, whose work invites audiences into imagined worlds where the rules are different and reality is disrupted.
Boliyan: Sounds of Women's Activism: Dr Ravi Thiara (Sociology, University of Warwick) and Dr Nirmal Puwar (Sociology, Goldsmiths University of London) have followed the biographies of a small sample of women activists from Coventry, collecting oral histories. They will collaborate with Preet Grewal, a community activist and practitioner in the art of giddha and boliyan, a form of all-female Punjabi dance with storytelling lyrics and sonnets.
Young women and politics: Dr Khursheed Wadia from the Department of Sociology at the University Warwick researches women, political participation and civic engagement and includes working with local stakeholders to support gender and race equality across the West Midlands and Warwickshire. She will collaborate with local multimedia artist Sherrie Edgar to produce a film representing the experience of young women of colour.
Since 2018 Coventry's two universities have funded more than 50 research and creative projects in Coventry in the run up to City of Culture 2021. When lockdown struck in 2020 there was worry that some of the projects may not be able to continue, and huge concern about the creative sector in the city during a time of financial strain and social isolation. The Coventry Creates project came into being to fund and commission collaborative work to help support the artistic community in the city. 18 joint projects between academics and city artists were produced over the summer and exhibited online in autumn 2020.
This year's 12 successful applicants are being funded by Arts Council England (ACE) and will also receive consultation sessions with Coventry Art Forum experts and the chance to attend various informal online networking sessions hosted by members of the Coventry Creates team.
---
For more Coventry City of Culture 2021 news, events and activities or to get involved, visit Coventry University's City of culture pages.