Coventry University building recognised with esteemed construction award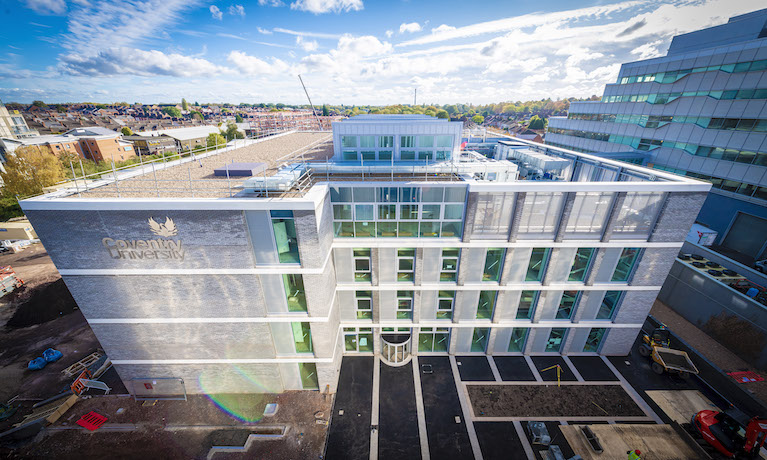 University news / Business news
---
Thursday 14 January 2021
Press contact
---
Coventry University's Beatrice Shilling building has earned a prestigious construction award recognising the value of its new facilities.
The new building, which has been developed to form an integral part of the university's Faculty of Engineering, Environment and Computing facilities, was lauded for its quality and functionality at the West Midlands Constructing Excellence Awards 2020.
The building opened on the university's city centre campus in Autumn 2020 and boasts a range of state-of-the-art facilities.
Gaming and virtual reality studios have both been installed, upgrading the university's methods of teaching, particularly for those studying degrees within the School of Computing, Electronics and Mathematics.
A specialist area for 3D printing and rapid prototyping, a laser facility and physics and electronics laboratories have also been incorporated for versatile use across the faculty's wide range of courses.
The building was designed around a full-height central atrium configured to promote student and staff collaboration.
Midlands-based construction firm Speller Metcalfe teamed up with Coventry University to take on the works, before putting the project forward for the Value Award.
Within the value category, judges were looking for projects that have maintained a key focus on the practicality and benefits of facilities and the outcomes for owners and users.
We are delighted with both the quality and functionality of the Beatrice Shilling Building, which will add further value to our state-of-the-art Engineering, Environment and Computing facilities.

It comes as no surprise to see the project's innovation and value recognised with such a prestigious award, given the outstanding quality of both the exterior build and the excellent interior facilities.

This is another fine example of the great work our Estate Development team is continuing to do and we're really pleased with the fruits of our collaboration with Speller Metcalfe, whose dedication helped us to ensure we achieved the results we wanted.

Cary Shephard, Coventry University Group Head of Development Project Management
Following the successful Beatrice Shilling development, works are now also in progress to upgrade and improve the university's Arts and Humanities facilities. Two internal refurbishments and a new build are being developed to facilitate the installation of additional innovative resources including an expansive gallery area where students can showcase their work to members of the community and cutting-edge teaching spaces, featuring highly flexible and immersive media facilities.
Find out more about Coventry University's Faculty of Engineering, Environment and Computing.