Coventry University celebrates launch of UK City of Culture 2021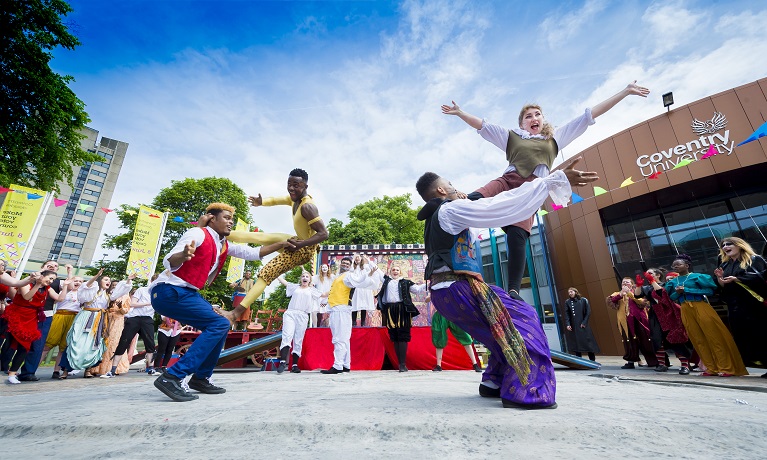 University news / City of Culture 2021
---
Monday 17 May 2021
Press contact
---
Coventry's year as UK City of Culture is underway, with an exciting programme of events, music, dance, theatre, and cultural celebration set to take place across the city. As we continue to emerge from lockdown, this will be the UK's biggest party – and you're invited.
We are a Principal Partner for the festival, and everyone in our university community has a role to play in bringing the festival to life. Several rounds of funding have seen students and colleagues already use their creativity and innovation to deliver City of Culture projects in the community; from raising mental health awareness in schools, to sustainable fashion, and bringing people together through dance. Learn about more of our staff and student projects.
We will also be leading a number of the year's biggest initiatives across the city – including:
Orchestra in Residence
The Orchestra of the Swan will be the university's 'Orchestra in Residence' during the year of City of Culture, performing a number of concerts in 2021/22. There will be a range of opportunities for students to work with the orchestra, in particular to undergo training in music therapy as part of the orchestra's dementia outreach work, and to support the production of performance films to establish the first free online national dementia music therapy resource. The orchestra has donated 20 per cent of the money raised through our promotion of their online concerts through lockdown to our student hardship fund.
Metropolis
Curated by Coventry University colleagues in collaboration with Historic Coventry Trust and City of Culture Trust, Metropolis will be an exhibition of the history of Coventry's built environment. Opening in June, it will be exhibited in the former Drapers' Bar on Earl Street, opposite our Civic Centre site, which will also house a restaurant in which 100 people currently not employed or in education will be trained in the hospitality trade. Directly behind Drapers' Bar, a temporary space will also house a rolling series of exhibitions.
Conversation Series
Our Conversation Series will run throughout the year and will include national and international guest speakers as well as 'local heroes' talking about their role in the city's cultural growth.
Coventry Dance
Created with seed funding from Coventry University, Coventry Dance is now an independent community interest company that we will continue to work with in partnership with our Centre for Dance Research. It will lead on the Coventry Dance Festival during City of Culture and aims to bring dance organisations across the city together as a part of the longer-term legacy of 2021.
Coventry Digital
We teamed up with Coventry City of Culture Trust, Culture Coventry and other partners to launch Coventry Digital - an online archive of photos, videos, maps and documents designed to celebrate the city's heritage. The archive already houses thousands of items and will continue to capture the diverse histories and voices of the city, throughout 2021 and beyond.
Tickets are open to book for some of the year's biggest events, including the Turner Prize, one of the world's best-known prizes for visual art. In the coming weeks, a range of streamed online events are taking place, including a performance by the Belgrade Youth Theatre, interactive Caribbean and Dancehall classes, and the year's first major event, Coventry Moves.
Our City of Culture activity is being led by the Cultural Impact Team, which brings together colleagues and students from a range of professional, academic and student disciplines to deliver our wider cultural strategy.