Coventry University to use artificial intelligence to boost student achievement and mental wellbeing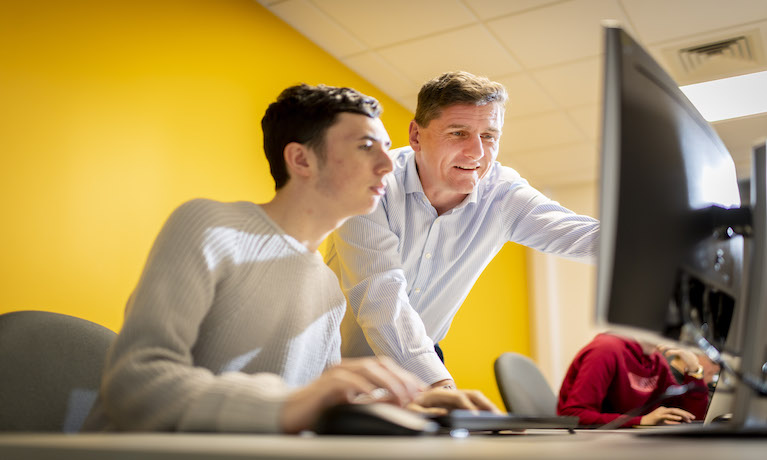 ---
Wednesday 22 September 2021
Press contact
---
Coventry University is striving to boost student achievement and mental wellbeing by using innovative Artificial Intelligence (AI) to improve its student services.
Coventry University is already reaching out to students who appear to be less engaged in their courses - utilising students' use of campus facilities and their digital footprint as a measure of engagement.
The groundbreaking AI software, which Coventry University has co-developed from the ground up with AI firm Symanto, is designed to interpret student behaviour more accurately, enabling the university's Student Engagement Centre to step in and offer support more effectively and earlier than ever before.
The technology analyses metrics such as attendance, library usage, grades and online learning activity, painting a picture of how well-engaged students are with their courses, studies and the university as a whole. It can also predict trajectories of student engagement and has the potential to continue evolving.
Should students' habits or behaviours show worrying trends or sudden, dramatic changes, the university will then be alerted, before offering timely support to those who appear to need it.
University staff will continue to contact those they feel may benefit from a discussion and potentially an extra helping hand.
We always want our students to know they have our full support and to know that we are more than happy to assist them wherever we can, and this software will hopefully help us to identify students who may need a helping hand but aren't necessarily actively reaching out for it.

Our ambition is to take our student engagement services, and therefore the student experience we can offer, to a whole new level using really innovative technology. This system is going to be a fantastic asset for staff and students.

Ian Dunn, Coventry University Provost
The AI enhanced learner analytics platform has been co-developed by Coventry University and Symanto – a leading artificial intelligence company in utilising emotion AI and psychology to provide deep understanding of human attitude, emotion, mental health and motivation through text and behaviour.
It is hoped the platform can provide a non-invasive method of helping students achieve their full potential through interpreting their levels of engagement.
Find out more about Coventry University's Student Engagement Centre.