Coventry University set to be UK base of European sustainable food and farming project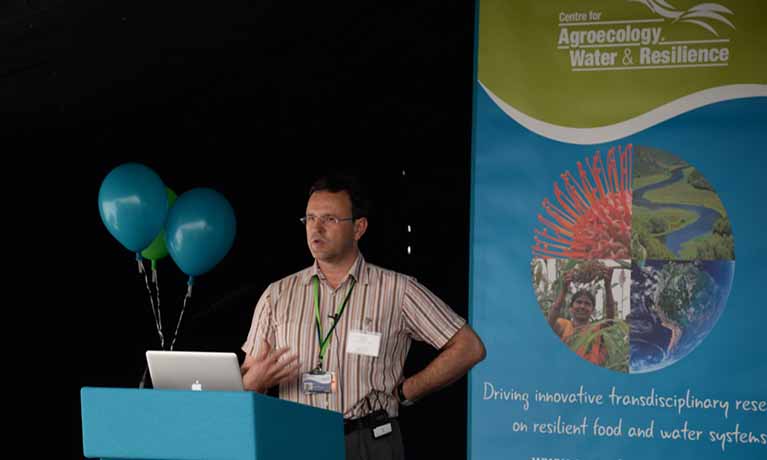 ---
Friday 10 July 2020
Press contact
---
Coventry University's Ryton research site is set to become the UK base of a major European sustainable food and farming project.
Coventry University's Ryton research site is set to become the UK base of a major European sustainable food and farming project.
The Agroecology for Europe (AE4EU) scheme has just been awarded a €2m funding boost from the EU's Horizon 2020 programme. Coventry University (CU) has teamed up with 11 other universities, research institutes and environmental associations, in a bid to develop a European living laboratory and research network that can accelerate the transition to sustainable agriculture and food systems.
Dr Ulrich Schmutz, Associate Professor at Coventry University's Centre for Agroecology, Water and Resilience (CAWR) led the application team and believes the state-of-the-art Ryton facilities and the centre's EU-funding track record helped the university secure this project.
The project start is planned for 2021 and is currently in the grant agreement phase. CU is set to receive just under €200,000 of the funding and will lead on two sections of the project - research on public and private funding for Agroecology and analysis of European Agroecology initiatives and policies.
For Dr Schmutz, the key is being part of a network that will allow researchers and practical farmers across Europe to work together over the coming years towards a common goal of deeper sustainability.
Now that the university legally owns the Ryton site it is also in a position to formally guarantee the delivery of this 'UK knot' of a European living lab network of Agroecology. This is an important project as the new EU Green Deal policy target of 25 per cent certified organic land by 2030 in Europe indicates that major changes are needed.
We are delighted to be on board and be a part of the coordination and support action.
This is echoed by Vicki Hird, Sustainable Farming Campaign Coordinator at SUSTAIN – the UK alliance for better food and farming, and one of the supporting partners of project.
This project is good news for people and the planet. Transition to agroecological approaches, like organic and regenerative systems, are the way to ensure we can tackle the climate and nature emergencies whilst being able to still feed ourselves healthy food and have thriving rural and food economies. We need to share knowledge and resources and practical approaches and pan-European projects will allow that.
Due to the facilities on offer at Ryton, Coventry will also aid the other partners; the French Institute for Higher Education and Research (ISARA) (co-ordinator Dr Alexander Wezel), the Italian University of Gastronomic Sciences, the Netherland's Wageningen University, the University of Santiago de Compostela in Spain, the Swedish University of Agricultural Sciences, CREA research in Italy, Germany's Thünen Institute and the multi-actor associations Agroecologiki, in Greece, EcoRuralis in Romania and the European co-ordination of Via Campesina and Agroecology Europe, in Brussels, with the overall delivery of the project.


The overall aim is to develop a framework for a European network of agroecological living labs (LL), research infrastructure (RI), and learning spaces for future farmers and civil society actors.
One of the research's most fascinating aspects is to analyse policy frameworks and shape the future 'agroecology and green recovery' policies in the UK and EU.