Coventry University presents nearly 80 students with scholarships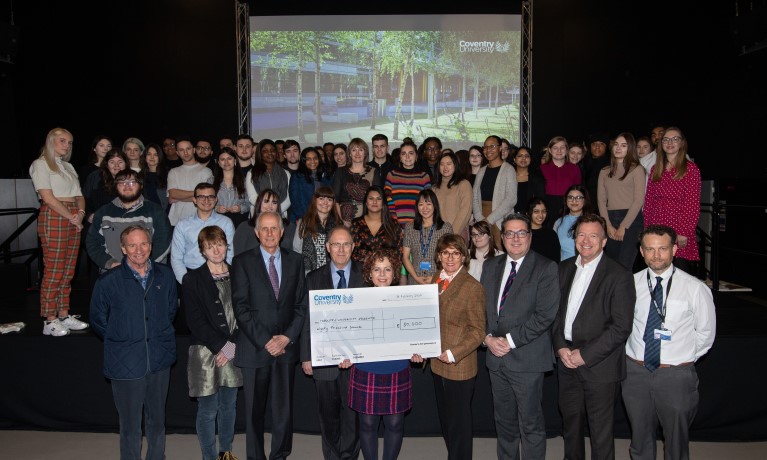 ---
Wednesday 04 March 2020
Press contact
---
Scholarships worth £1,000 each have been awarded to support 79 Coventry University students from a variety of backgrounds.
Among the scholarships presented were those for care-leavers and disabled students, women studying engineering or STEM degrees, and those studying arts subjects.
Representatives from the funders of each scholarship, which includes industry employers and charitable trusts, presented the students with their official scholarship certificates. The students benefitting from the scholarships will all receive £1,000 this year to help them through their degree and recognise their potential.
The annual presentation took place in Square One in The Hub in the Coventry city centre campus and Abbie Harvey was among the students who were part of the event.
Abbie is in the second year of her Aerospace Technology degree and received the Chloe Moore Trust Foundations Scholarship, which is awarded to students who are studying engineering with a brain injury.
I love my course and the opportunities it has opened up for me. I am incredibly grateful for the scholarship and would like to thank the Moore family for their support which has had such an impact on my degree.

The money has allowed me to focus on my degree without stressing about money and allowed me to purchase equipment such as a monitor.
Deanna Chalmers was also presented with the Linda Benfield Scholarship for students studying courses within the Faculty of Health and Life Sciences, she is in her first year of her Forensic Investigation degree.
I've been interested in forensics since school and I knew I wanted to go into a career where I could help people. This course appealed to me as it combines forensic science with wider aspects of the topic and opens up a number of different routes.

The scholarship has been invaluable in helping me afford transport and accommodation so I can concentrate on my studies.
It is really important to us that we support students from a variety of backgrounds and we are delighted to have the opportunity to present them with scholarships to help with this.

The scholarships on offer span a range of subjects and are open to students from all walks of life, from care leavers to those living in Coventry and Birmingham, to those studying engineering degrees.
The scholarships presented are funded by external bodies and charitable trusts:
Tata Technologies – for first year women engineering students
Ada Lovelace (funded by Tata Technologies and the 29th May 1961 Charitable Trust) – for first year women students studying STEM degrees other than engineering
National Express Foundation bursaries – for students who were previously in care or have a disability
Linda Benfield – for students studying courses within the Faculty of Health and Life Sciences or engineering within the Faculty of Engineering, Environment and Computing
Millward Charitable Trust – for undergraduates students studying Fine Art or postgraduates studying Painting
Gittins Charitable Trust – for students studying mechanical engineering, biomedical science, paramedic or pharmalogical sciences degrees
Chloe Moore Trust Foundations Scholarship – for students studying engineering with a brain injury
Sir William Lyons Charitable Trust Bursaries – for engineering students from a B or CV postcode
National Express Foundation bursaries – for men in health professions