Designing the car charging points of the future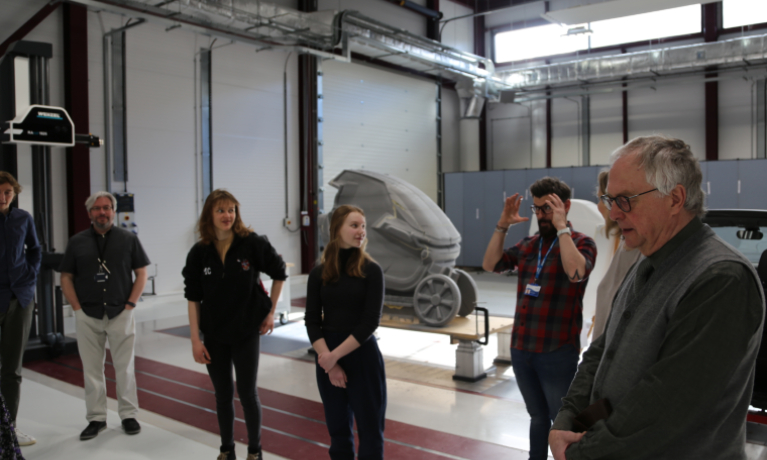 ---
Tuesday 17 March 2020
Press contact
---
Coventry University is helping school pupils from across the UK design a new generation of electric charging stations through an exciting competition.
The winners of the competition will be involved in creating 3D printed models of their designs in Coventry.
The Eco-innovators design competition was run by the Office for Low Emission Vehicles (OLEV) with Coventry University's National Transport Design Centre (NTDC) and the Department for Business, Energy and Industrial Strategy.
The futuristic ideas were judged by representatives from OLEV, NTDC, the Design Council, National Grid, RAC Foundation, Living Streets and EV Thank you. A winner was selected from both the 7-14 and 14-19 age ranges.
The two winners Lily Grace Down and Michelle Crees from Monmouth School for Girls and Lady Eleanor Holles School respectively were invited to the NTDC in Coventry to have a tour of the state-of-the art facilities at the university's Techno Park just outside the city centre.
They also worked with Coventry University designers and modellers to refine a digital model of their design as well as seeing a demonstration of the advanced technology at NTDC.
They were then able to press 'go' and start the creation of a full-scale 3D printed model of their designs.
The competition was designed to celebrate students' creativity and skill and give young people a platform to share their ideas for major global issues, such as climate change and encouraging people to increasing use of electric vehicles.
It has been a thrill for NTDC to be involved with OLEV's Eco-innovators design competition.

How and where we charge electric vehicles is going to be of greater importance as production and update increases.

It was refreshing to see and judge the entries and the winners produced excellent proposals. We were happy to host them and be a part of bringing their designs to life.

David Wright, Director of Strategic Initiatives at Coventry University
I would like to congratulate the talented young women who have won the OLEV Chargepoint competition.

Their unique, trailblazing ideas will help lay the foundations for a future where we can get from A to B safe in the knowledge that we are reducing our carbon footprint.

Amanda Solloway, Science Minister
The NTDC is designed to explore new areas of transport design research and create new solutions. For more information visit the NTDC page.