The Imp at Coventry University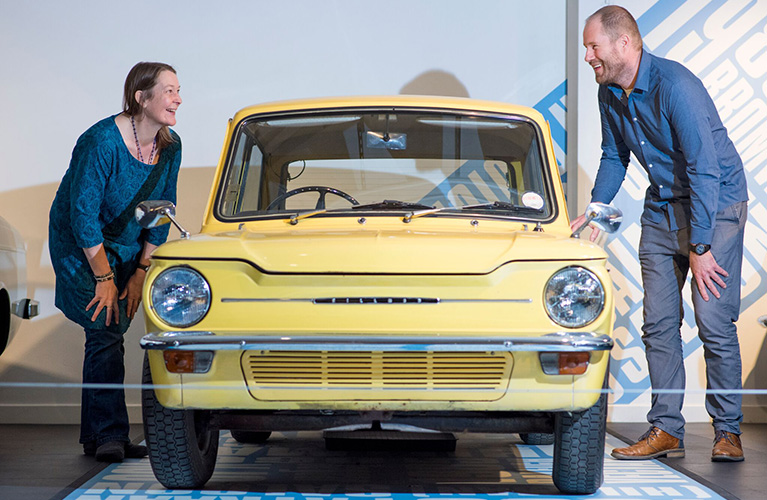 If you are walking in Coventry city centre you probably won't fail to notice that the Imp is back in town.
The historic car takes pride of place on hoardings boards as part of the Your City Your University campaign, run by Coventry University.
The campaign aims to highlight all the ways the university works with the local community and honours the city's achievements past, present and future.
So it was a no-brainer to select the Imp, which grew from the brainchild of designers Tim Fry and Mike Parkes, working at Rootes factory in Coventry in the 1950s.
The duo persuaded boss Sir William Rootes to produce the car and the family-friendly runabout became an instant hit. Imps were manufactured up until 1976.
The Imp is among the most beloved of Britain's vintage cars but holds a special place in the hearts of Coventry citizens.
The hoarding board shows Tim's daughter Christa Pelton, and Ed Stubbs, Coventry University automotive and transport design lecturer, with a model imp at Coventry's transport museum.
Ed Stubbs said the Imp was an icon which still inspired his students today. He said:
Like the Mini it was very compact, but with really well-integrated engineering solutions. Obviously today we have far more safety legislation and comfort expectations which make cars much larger and heavier, so there's a simplicity and lightness to the Imp that I think we can learn from. It's an honest car, no pretensions, and it's got a very friendly expression!
It's an inspiring story - the key is that these engineers had a mission to innovate. The car was developed with economy in mind, yet it had some really advanced technology for the day, and was great to drive. We impress on the students the need to design around people, and the Imp is a very clever piece of compact packaging, that still looks great today.
---
Christa said:
My father would be delighted to think his work was inspiring designers today. He would approve of the work that Coventry University students do – he loved innovation and problem-solving which is what the university is about.
The Imp hoardings will be on display in Coventry this year.